Mystery Writer Found!
---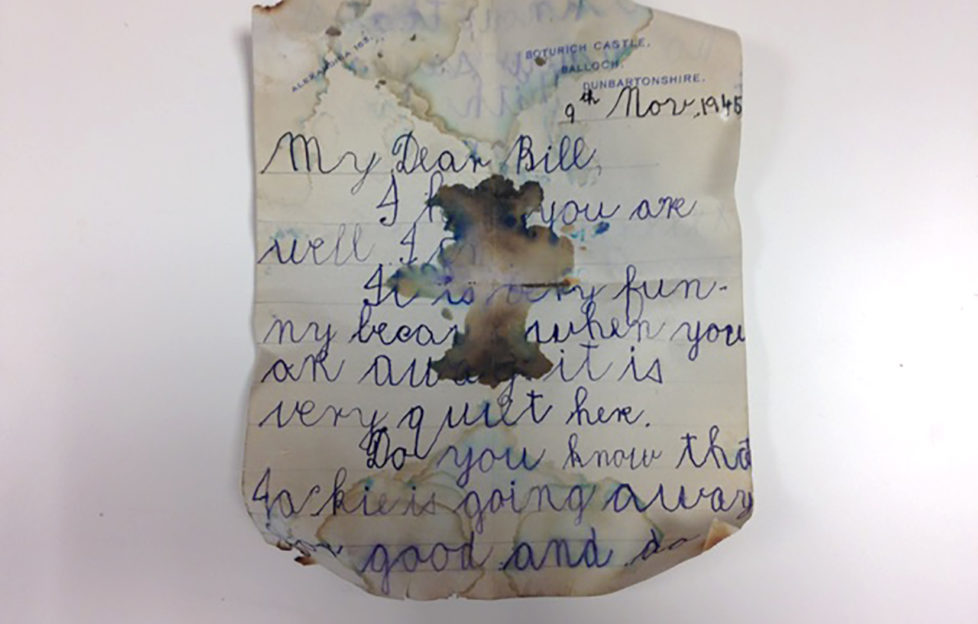 The riddle of the wartime letter found at Blair Castle has been solved – thanks to a public appeal to identity the writer . . .
During the winter conservations of Blair Castle, a perfectly preserved 70-year-old letter was discovered sparking an investigation by the Castle staff to find the owners.
The letter was written by a child's hand and asked for "my dear Bill", saying how quiet it had been since he went away and was signed "with love, from Archie". The staff surmised that Bill was an evacuee, staying in Blair Castle in the relative safety of the countryside during World War II.
After a public appeal, Bill and Archie's niece, Emma Scott, heard the appeal and called Blair Castle to fill in the blanks.
It turns out that the letter was written by 7-year-old Archie Findlay to his brother, Bill, 12, who stayed at Blair Castle between 1942 and 1946 when his Winchester boarding school, West Downs School, was evacuated as part of the war efforts.
"I'm just so tickled you've found it after all this time"
The staff at Blair were able to speak with both brothers and were delighted to solve the mystery.
"It is incredible to think that Archie's letter to Bill has been lying hidden for such a long, long time and yet we were able to find them within 24 hours of the news getting out," said Stuart Letford at Blair Castle. "It's truly amazing."
As for Archie and Bill – they couldn't believe their letter had caused such a stir.
"I'm just so tickled you've found it after all this time," Bill (now 82) said. "We used to sit on the window ledges in the Grand Ballroom and it's entirely possible that I dropped it down the back of the radiator, but it was such a long time ago."
Archie was equally amused, and was even able to remember writing the letter to his brother.
"Wow – this brings back memories indeed! I was told to write that letter by my mother!" he said. "I'm just so amused it's been found so many years on! Who'd have thought…"
The brothers agreed that Blair Castle could put their letter and accompanying keepsakes on display to the public, as part of planned exhibitions celebrating the castle's heritage – but Bill did have one last request for the staff concerning his lost bicycle clips.
"We used to throw them up in the air to play a game called 'shakes' and my bicycle clips got caught on one of the banners, a big yellow one, hanging in Blair Castle's ballroom. Do you have them by chance?"
To read the article we published online to help find Archie and Bill, click here.