Jacobite Exhibition!
---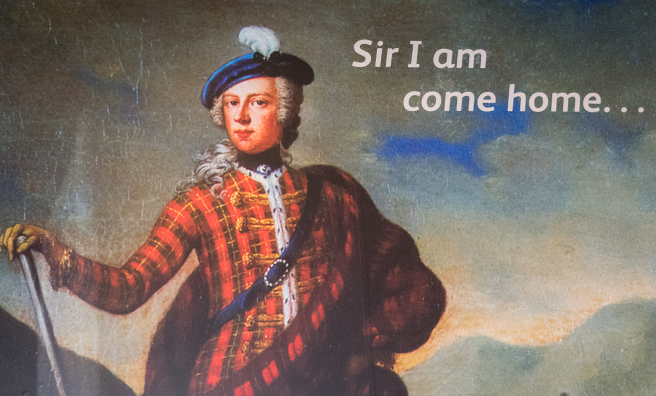 The National Museum put the spotlight on Bonnie Prince Charlie and the Jacobites
Wielding a plastic sword in one hand whilst trying to take a selfie with the other, is more challenging than you may think.
Throw in your best 'angry clansman' impression, plus a crowd of bemused onlookers at Edinburgh Castle, and you've successfully reached a whole new level of silliness. The #bonnieselfie was for the online campaign to launch Bonnie Prince Charlie and the Jacobites, however, so I was totally cool with it!
For our latest Scotlanders campaign, we took off around the country to promote the Jacobite Trail, which has been developed and launched in partnership with Historic Scotland, the National Trust for Scotland, the National Museum of Scotland, and the Royal Collection Trust.
Between five bloggers, we covered the trail's twenty-six historic sites – from palaces to castles, battlefields to glens – each connected to the Jacobite cause or the bonnie prince himself. Visitors can pick 'n' mix the sites across six regions in Scotland, including the recently launched exhibition at the National Museum of Scotland.
We made our final stop collectively at the museum for an exclusive sneaky peak at the Bonnie Prince Charlie & the Jacobites exhibition, which opened to the public on June 23.  We even got to meet Andrew Gower, the actor who plays Bonnie Prince Charlie in the Outlander series. Excitement overload!
The exhibition, which runs until the November 12, is the second in a trio of exhibitions which shine a spotlight on significant periods in Scotland's history, and the ever-intriguing protagonists who graced them. The first was the Mary Queen of Scots exhibition in 2013, and the last remains a mystery for the time being. Oh, the suspense!
Loyalty, Bloodshed and Power
The Bonnie Prince Charlie and the Jacobites Exhibition showcases the pivotal period in our history, defined by loyalty, bloodshed and power. It is the most extensive exhibition about the Jacobites in over seventy years, boasting three-hundred and fifty exhibits, 60% of which belong to the museum itself. The story is inescapably tragic and romantic, providing inspiration to Sir Walter Scott, Robert Burns, Robert Louis Stevenson, and Diana Gabaldon's world-famous Outlander series.
David Forsyth, the exhibition's Head Curator, channelled his vast knowledge and evident passion into our visit, when he proudly unveiled the exhibition to us. David's commentary brought the history to life, and reminded us that the exhibition tells much more than just a Scottish tale about Charlie and the Jacobites; it focuses on the Stuart Dynasty, the Jacobite risings and ultimate defeat, and the European involvement throughout.
One of the highlights of the exhibition for me was the handwritten letter from an eight-year-old Charlie to his Mother – a very formally articulated apology for giving her a fright! I also really appreciated the delivery of Culloden section, which is particularly poignant and solemn.
---