Penguin Chicks Hatch at Edinburgh Zoo
---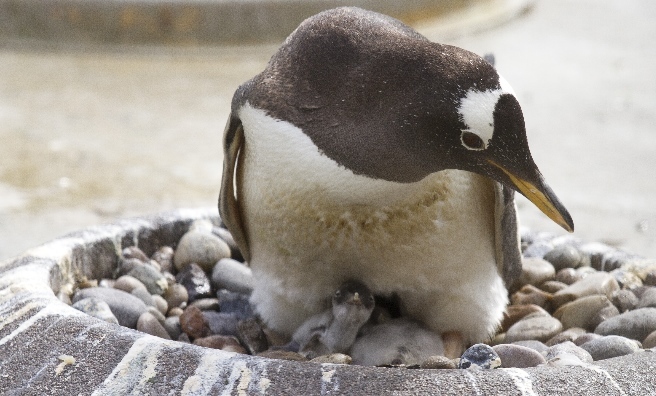 The new chick peeks out from his cosy hiding place! Photo courtesy of Royal Zoological Society of Scotland
The first penguin chicks of the season have arrived at Edinburgh Zoo. The first gentoo penguin egg hatched in the early hours of May 4 and the second chick hatched two days later.
Both of the hatchlings are from the same nest, with the rest of the eggs starting to hatch over the next few days and weeks.
The breeding season at Edinburgh Zoo's Penguins Rock began in March, with the customary squabbles and flipper slaps as the penguins raced to claim their favoured nest rings and the accompanying pebbles. The first eggs were laid at the beginning of April and the birds have produced 40 eggs to date.
'The first of the gentoo penguin eggs have hatched'
"We're really happy that the first of the gentoo penguin eggs have hatched." said Dawn Nicoll, Senior Penguin Keeper at RZSS Edinburgh Zoo.
"Penguin breeding season is always a really busy time for us, right from the moment we put the nesting rings into the enclosure, through the incubation period, to the hatching, rearing and eventually, fledging of the chicks.
"It's always incredibly rewarding when the eggs start hatching and we finally get to see the penguin chicks. The majority of them will hatch over the next two to three weeks as the birds will not all lay at exactly the same time. Fingers crossed, we will have quite a few chicks keeping us busy this season."
---
Watch!
Take a look at fabulous footage of the new gentoo penguin chicks by clicking here.