New Play Park Makes A Splash
---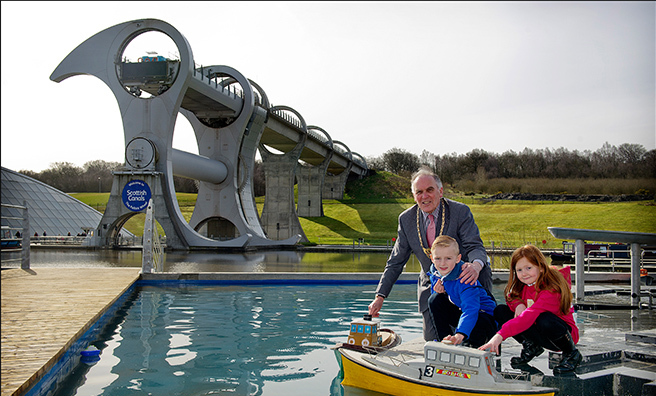 Council Provost, Pat Reid, turned on the taps at the Falkirk Wheel's exciting new water park attraction.
The £430,000 park was finished in time for the Easter Weekend and celebrates the history, geography and role of Scotland's inland waterways.
Pupils from Easter Carmuirs Primary were the first to enjoy the watery activities, once Falkirk Council Provost, Pat Reid, opened the newest attraction at the world's only rotating boat lift.
Pat was thrilled to see the waterpark, and hopes it puts Falkirk well and truly on the map for tourists.
"This is another step towards the reshaping of the Falkirk area as a 'must visit' destination for visitors as well as a welcome additional attraction for local children and adults. Scottish Waterways Trust, Scottish Canals and their funding partners are to be congratulated for their bold, exciting initiative."
The Falkirk Wheel Water Park certainly sounds like a kids' paradise: visitors can steer model barges through mini canals (complete with working lock gates), take to the water on floating hydrozorbs or water dodgems, and even blast each other with water cannons.
There is also a detailed scale model of Scotland cast in stone, and, of course, the fascinating history behind the Wheel itself to discover.
For opening times and more information, click here.