Last Chance To Pick Up Our November 2018 Issue!
---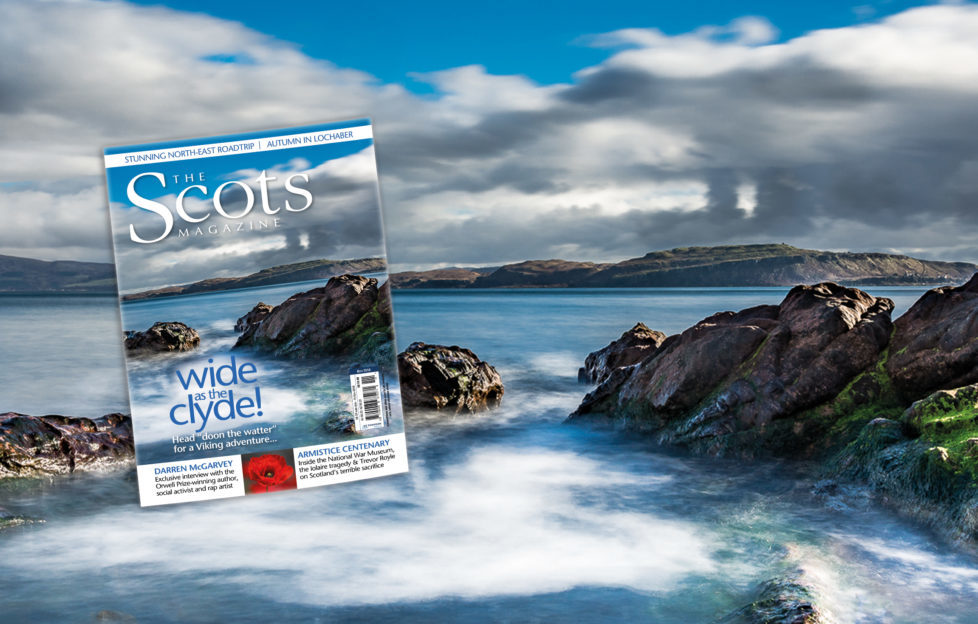 ---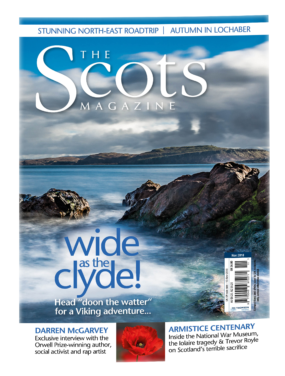 The November issue of
The Scots Magazine
is in shops now!
You can find your nearest stockist by entering 
your postcode here. There are loads of ways to
get it digitally to your smartphone or tablet, too
– just visit the app store, or get a digital subscription.
---
CONTENTS

Explore the stunning north-east coast,
from Dundee to Aberdeen
Preview A Write Highland Hoolie, one of
Scotland's brightest book festivals
Continue our series The Great Eight with
treasures found in the National War Museum
Nature expert Jim Crumley investigates the
relocation of golden eagles to the Borders
Focus on Cumbrae and the Ayrshire coast
A-Z of Great Scots: the amazing story of Sir Alexander Glen
A fascinating insight into Scottish celebrations
for Armistice 100 years ago this month
Discover an Aberdeenshire village
attracting sculptors from all over the world
Have A Wee Blether with Deirdre Kinloch Andreson,
doyenne of a 150-year-old kilt-making firm
Star chef Carina Contini goes back to her
Italian roots with this month's mouth-watering recipe
Exclusive interview with social commentator and community activist Darren McGarvey, AKA Loki
Experience a bit of peace in the Ochil hills with Take A Hike…
…or downhill the Cheviots with On Your Bike
Polly Pullar joins Scottish SPCA's senior animal rescuer
on a mission to ease wildlife suffering
Cameron McNeish visits the hills of Argyll
that inspired post Duncan Ban MacIntyre
Photography spotlight on Autumn in Lochabar
An innovative Bothy project that combines
literature, art and the great outdoors
Lisa-Marie Ferla celebrates fresh material from
familiar voices on Sound of Scotland
Whisky expert Euan Duguid meets a
master distiller who's part-scientist, part-artist!
Kenny MacAskill recalls the tragic sinking of the
HMY Iolaire which claimed hundreds of lives
Plus our

pick

of the best…
The Great Gear Guide, Around Scotland events, and reviews
of the best hotels and restaurants will keep you right this month.
---

Never Miss An Issue
Of The Scots Magazine.
Save an incredible 40% on the shop price when you subscribe!
Or find y

our nearest stockist

here

.
---