Uncovering Nurdles In North Queensferry
---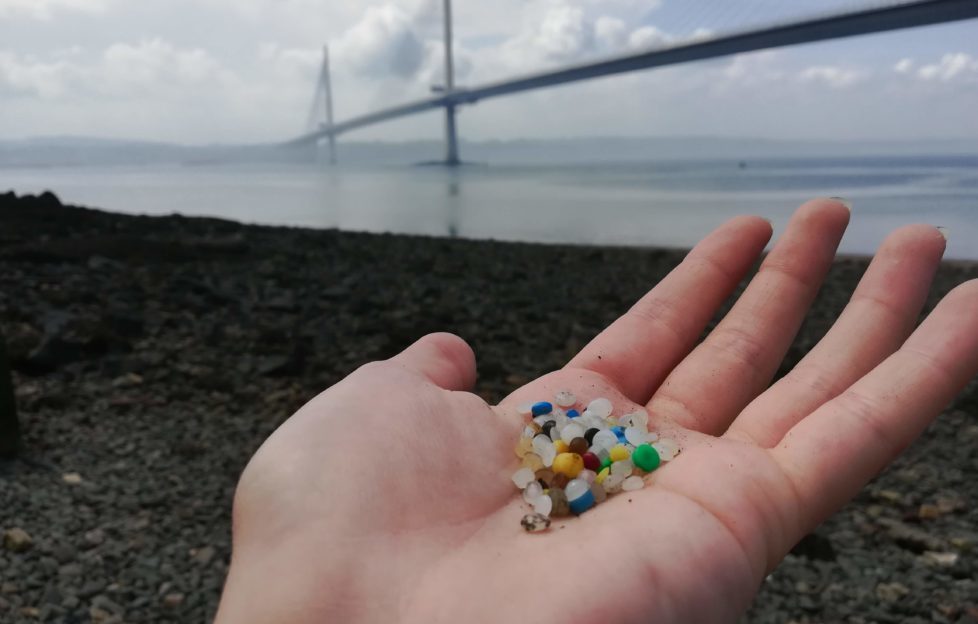 sdr
Scottish influencers fighting to stop the plastic tide
"Nurdle" is something of a buzzword at the moment, yet we're only just coming to understand the impact this tiny orb is having on our planet.
Nurdles are wee plastic pellets, used in plastic manufacturing. They might seem harmless enough – even quite pretty – but to the marine ecosystem they can be deadly. Slipping through sewage plant gates and out into our oceans, the pellets are often mistaken by animals for fish eggs and enter the food chain.
A UK-wide survey conducted by environmental charity Fidra discovered that the North Queensferry beach was the worst in the UK for plastic pollution. In two hours, surveyors gathered 450,000 nurdles.
In June Adventures Around Scotland blogger, Susanne Arbuckle, decided to do something about this nurdle pollution.
Susanne invited fellow bloggers, vloggers and online influencers to a #ShoreYouCare (brilliant title) beach clean in North Queensferry.
"We all have a common passion for sharing the stunning landscapes of Scotland with the world," Susanne said. "It is important we do what we can to preserve Scotland's beauty for future generations."
Online influencers from all over the country gathered at the DoubleTree by Hilton, North Qeueensferry, to hear talks from experts on Scotland's marine environment.
On average there are 46,000 pieces of plastic
floating in every square mile of ocean
Catherine Gemmell, Scotland Conservation Officer for Marine Conservation Society UK, spoke about the dangers that plastic can pose on the marine environment.
Plastic is non-biodegradable, and never decomposes. Larger plastic objects may get broken down by storms, but the pieces left behind last forever. One of the worst plastic culprits on Scotland's beaches is the cotton bud. They're small enough to slip through filters at water plants and end up in the ocean – so bear this in mind next time you clean your ears!
Fuelled by the passion in Catherine's speech, the group took to the beach to see what they could find. Teams made a note of every piece of plastic they found to contribute to the MCS survey.
More importantly than this, though, the group took to social media. Dozens of videos, pictures and posts began appearing under the tag #ShoreYouCare expressing dismay and sometimes disgust at the amount of plastic that was found.
In total the group of 35 collected 1238 items of rubbish – and this didn't include nurdles. Of the rubbish collected, 70% of it was plastic or polystyrene.
All set for the beach clean under the Forth Road Bridge, with the Queensferry Crossing i the background
After the beach clean, the group headed back to the hotel for lunch and to discuss what they'd witnessed.
What Can Be Done About It?
Alasdair Neilson, Project Manager for East Lothian environmental charity Fidra, then spoke on their research and projects.
Fidra established the Great Nurdle Hunt, and their tireless work has instigated this sudden interest in nurdles. They have been working with companies around the Firth of Forth to raise awareness of Operation Clean Sweep, their project to reduce plastic pellet loss to the environment.  You can find more about this here.
It is great to see local companies and communities engaging and taking the plastic problem seriously. As Robbie Blyth, Operations Manager for Fife Coast and Countryside Trust, said next, however, we still have a long way to go.
Robbie is responsible for looking after much of Fife's tourist spots – prime locations for plastic littering by the public. The Fife Coastal Trail has seen an influx of tourists to the area, but with it we've seen an increase in littering.
Both Alasdair and Robbie emphasised the need for more education on the dangers plastic poses to the environment.
As they spoke about the need to spread awareness, 35 phones tapped out a response.
How can marine life tell the difference between polystyrene and real fish eggs? We need to stop plastic pollution at its source – we're turning the oceans and beaches into a toxic mess.#ShoreYouCare #STOPthePlasticTide

— Scot Street Style (@ScotStreetStyle) June 2, 2018
It was shocking to see the amount of plastic waste littering Scotland's shores. It was also gratifying, however, to see those that celebrate and publicise our country's scenery most stepping up and sharing the message.
The responsibility to look after our country's wild places – and that includes the surrounding oceans – lies with every single person that uses and enjoys them.
As Alasdair from Fidra said in The Scots Magazine's July issue – "If you have a beach you come to every day, you do get pretty passionate about it."
What are you waiting for? Join the Great Nurdle Hunt, and do your part to go plastic-free.

For more information
on nurdles, and how
to hunt them yourself,
pick up a copy of
The Scots Magazine
July issue.