Oatcakes for Burns Night!
---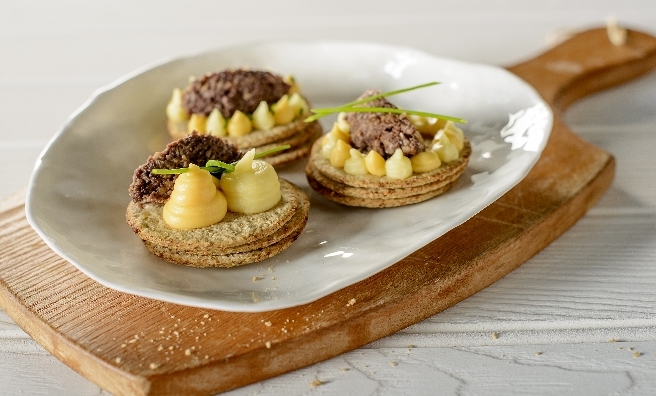 Haggis, neeps and tatties on oatcakes
Nairn's, producers of exceptional Scottish oatcakes, and award-winning Edinburgh-based chef Mark Greenaway have joined forces to devise a special gourmet treat just for Burns Night!
Haggis, Neeps and Tatties With Oatcakes
Makes 10
2 Maris Piper potatoes
100ml milk
40g butter
Pinch sea salt
1 small turnip
100g haggis
10 Nairn's Rough Oatcakes
Chopped chives to garnish
For the mashed tatties…
• Cut potatoes in to evenly-sized small dice
• Boil until tender
• Drain and mash until super smooth
• Add milk and half the butter, beat in well and add a pinch of salt
• Spoon into piping bag and keep warm
For the mashed neeps…
• Dice turnip into even sized pieces and boil until tender
• Drain turnip and put back into the pan (on the heat) to dry out any excess water
• Mash until extremely smooth
Add the rest of the butter and a pinch of salt
• Spoon into piping bag and keep warm
For the Haggis…
• Catch your wild haggis from the lowland hills of Scotland
Heat haggis as per instructions. Once hot, remove casing and mix well with a spatula or wooden spoon
To assemble…
• Pipe alternate dots of turnip and mash around the outside of each Nairn's Rough Oatcake
• Spoon haggis into the centre
• Garnish with chopped chives
Enjoy with a dram or two, and a traditional rendition of Burns's Address To A Haggis.
---
Mark Greenaway
Mark began his career as a chef in Scotland in 1992, before embarking upon a five-year stint in Australia, working at some of the nation's top establishments.
On returning home to Scotland, Mark worked at One Devonshire Gardens in Glasgow, Kilcamb Lodge Hotel in Strontian and The Dryburgh Abbey Hotel in the Scottish Borders.
In 2011, Mark opened Restaurant Mark Greenaway in Edinburgh. Since then, restaurant has gone on to receive numerous awards, including three AA Rosettes for outstanding cuisine.
"I am passionate about using Scottish ingredients and products in my cooking," said Mark. "I love using Nairn's oatcakes, which are made using wholegrain Scottish grown oats, and always make sure I have a pack or two in my store cupboard at home."