Innerpeffray Library's Bright Future
---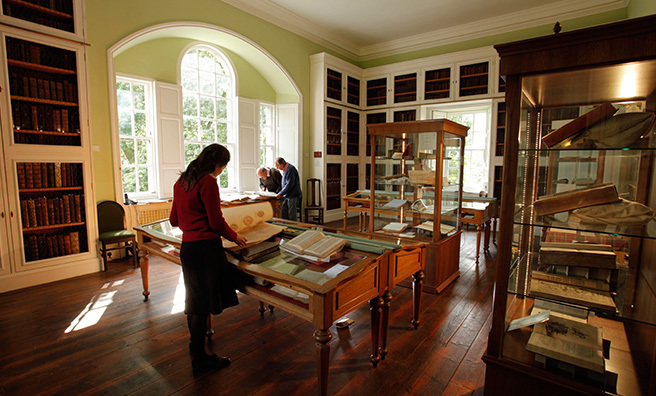 It was recently reported that hundreds of libraries have closed across the UK in the past three years, but the Library of Innerpeffray is bucking the trend
Shortly after we published the history of the oldest purpose-built library in Scotland, news reached us of another "oldest library", whose history has ensured its enviable spot as one of the visitor attractions at the VistScotland Expo 2016.
The Library of Innerpeffray, Perthshire, was founded along with a school around 1680 by David Drummond, 3rd Lord Madertie, who wanted to make books and reading available to all.
This idea may seem commonplace now, but Innerpeffray was the first free public lending library in Scotland – and, amazingly, it still holds the Borrowing Register dating back to the 17th century.
Hold History In Your Hands
The Library of Innerpeffray has been celebrated for its unique heritage and amongst its extensive collection are rare first editions of Robert Burns and a valuable selection of early books from all over Europe. It is now a hands-on museum where it is possible to explore the story of the local people who visited in the past.
One of the library's staff, Lara Haggarty, said they were delighted to be invited to have a presence at the Expo.
"This is a fantastic opportunity for us to highlight Perthshire's rich heritage – of which the Library has been an important part for many years. Perth is brimful of great experiences and we are small but special and pride ourselves on offering a bespoke, personal visit.
"It's great to be able to get involved in the Expo and showcase how a specialist attraction like the Library can hold great appeal."
Due to the value and age many of the books have to stay in the library, but a visual display will be on show at the Expo to tempt visitors to go and see the books first hand.
"Lovers of Scotland, its history, culture and literature can hold history in their hands when they visit the Library."
With a rich heritage and a bright future thanks to the Expo, this is one library that's making a comeback.
---
Visit…
The VisitScotland expo takes place on April 20 – 21 at Royal Highland Centre, Ingliston, Edinburgh. Click here for visiting information, and go to the Library of Innerpeffray website to visit the library in person.