Paul Newman's Legacy: Helping Scotland's Ill Children
---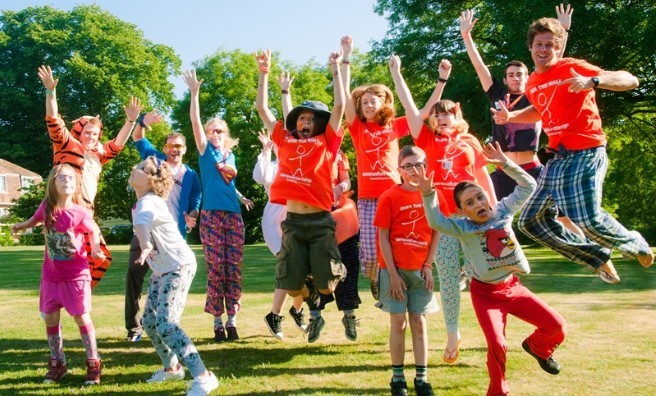 Having fun at one of the 2014 Over The Wall camps in Scotland
Thanks to a charity set up by Hollywood legend Paul Newman, free places at activity camps in Fife and Perth are currently on offer to children in Scotland who are affected by serious illness.
These camps, organised by the Over The Wall charity, were developed through Paul's idea that seriously ill children should have a place where they could (in his words) 'Kick back and raise a little hell'. For a weekend or week at a time, children attending Over The Wall camps discover that being sick takes a backseat and fun becomes the priority.
'The experience of a lifetime'
"Paul Newman's aim was to help seriously ill children to experience the fun and joy of camp and the thrill of being child – all for free," revealed CEO of Over The Wall, Kevin Mathieson.
"This is an opportunity for children and families in Scotland who have been affected by serious illness to join us for the experience of a lifetime."
Over the Wall activity camps are held throughout the UK every year. Conditions of children attending these camps can include cancer and leukaemia, blood disorders, diabetes, gastrointestinal disorders, arthritis, severe eczema, multiple severe allergies, heart conditions, kidney disease, epilepsy.
Helping children reach beyond the limits
During the camps,which provide medically-sound environments with highly-skilled medical professionals available 24 hours a day, children participate in activities such as archery, clay pigeon shooting, fishing, drumming circles, creative writing, climbing and kayaking.
As a result, studies have found that these camps boost confidence, improve self-belief and enhance resilience, helping children reach beyond the limits of their medical condition.
Over The Wall also offers separate camps for the siblings of children affected by illnesses and long weekends for families.
If you know of a child or family who would benefit from attending one of the Scottish Over The Wall Camps, or if you would be interested in volunteering, contact Over The Wall on 02392 477110 or click here to apply online.
---
Over The Wall
Over The Wall is a member of the SeriousFun Children's Network, founded in 1988 by Paul Newman.
Over The Wall holds camps in Dorset, The Midlands and Scotland.
The charity has supported more than 500 children and families and is hoping to support 600+ in 2015.
For more information visit www.otw.org.uk

. 
---
'Over The Wall gave Cara the fun back'
When Cara Tavendale from Perth suffered a ruptured appendix, serious complications meant that she was forced to spend long spells in hospitals, where she became all too used to the routine, invasive procedures, drips, drains, drugs – and boredom.
And then Cara attended an Over The Wall camp…
"Over The Wall gave Cara the fun back," said Cara's mum, Catriona. "It was all about laughter, games, playing, challenges and doing all the normal stuff that kids with an illness miss out on.
"At camp, it's not about illness. It's about loving life – and having fun."