Pennan's Famous Phone Box
---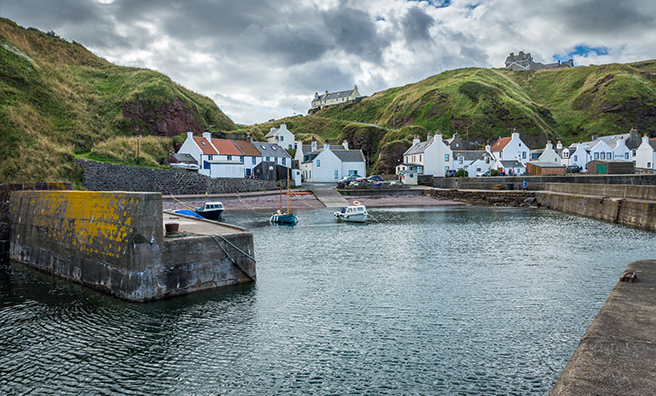 Our June Issue's Focus is on Fraserburgh and the North-east, and here's a wee follow-up on one of its film-star villages
One of the most famous villages in Scotland? If any has just claim to that accolade, it's the Aberdeenshire coastal village of Pennan. Parts of the 1983 film Local Hero were filmed there, giving Pennan one of the most famous red telephone boxes in the world. Since then it has attracted a steady stream of visitors – so many, in fact, that it's been registered as a listed building!
But there's more to Pennan than a telephone box.
It sits at the base of cliffs looking north over what can be a stormy sea. Indeed, the ferocity of the weather experienced there means the village cottages are built gable-on to the wind, giving the inhabitants a modicum of shelter.
It's worth a visit simply to stroll along the main street and visit the harbour, once the domain of a small fishing fleet but nowadays revolving around leisure craft. If you catch Pennan on a good day, its relative solitude means a blissful escape from the hurly-burly of life.
When the storm lashes the sea over the beach and there's a sheet of spray obscuring visibility, don't be put off. Put it down to an experience you'll not likely find elsewhere else. Anyway, there's the recently re-opened Pennan Inn to seek refuge in if you find the going too tough!