The Perfect Blend at The Real Mary King's Close
---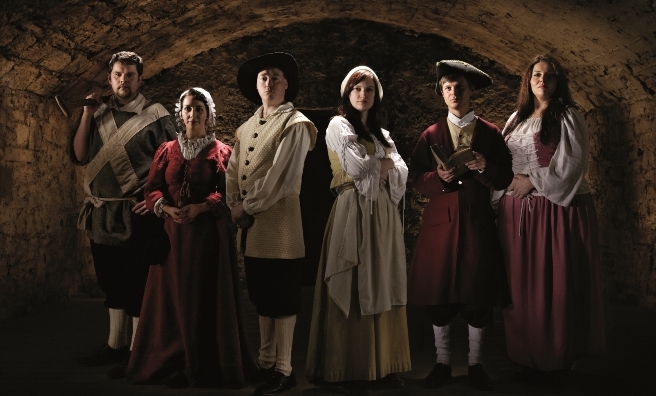 A few of the characters you might meet in Mary King's Close after a few drams! Photo courtesy of The Real Mary King's Close
To celebrate Whisky Month (also known as May), The Real Mary King's Close is launching The Perfect Blend – a new and unique whisky tasting experience in the heart of Edinburgh
In partnership with Royal Mile Whiskies, multiple winner of Whisky Magazine's Retailer of the Year award, The Real Mary King's Close is combining Scotland's most iconic exports – history and whisky – to take guests back in time as they uncover Edinburgh's incredible hidden history whilst getting to grips with our national drink.
Guests will enjoy five drams of whisky: a grain, a blend, a malt, a sherry cask matured and a peaty whisky, each one specially selected to highlight the diverse nature and history of Scottish whisky.
Whisky, chocolate and history
Each nip of whisky will be accompanied by a sample of award-winning organic chocolate from local suppliers, Chocolate Tree.  Guests will be able to taste how this combination of flavours works together to enhance the subtle nuances of each specially selected whisky.
"This is a really exciting opportunity to create a truly unique and Scottish event for Whisky Month," said General Manager Craig Miller of The Real Mary King's Close.
"It's a chance for those who have visited the attraction before to come back and experience the Close in a different way and it will also be a great event for those visiting the capital to tick off two 'must-do' experiences when in Scotland: taste whisky and discover fascinating history."
The Perfect Blend will run throughout the month of May and tickets are now on sale. Advanced booking is recommended and tickets can be purchased online here, by phone on 0131 225 0672 or in person at The Real Mary King's Close.
---
The Close
Hidden beneath the Royal Mile, lies one of Edinburgh's deepest secrets – The Real Mary King's Close.
This warren of hidden 'closes' or narrow streets where real people lived, worked and died, lay forgotten and covered by the City Chambers on the Royal Mile for centuries, until, in 2003, it opened as a fascinating new visitor attraction for Edinburgh.
---
Tickets and Ts&Cs
Ticket Price: £35
Time: 21:30 (1 hr, 30 mins)
Dates: May 1, 6, 13, 20 and 29
Only available for 18 years and above (ID may be required)