The Perfect Blend – Review
---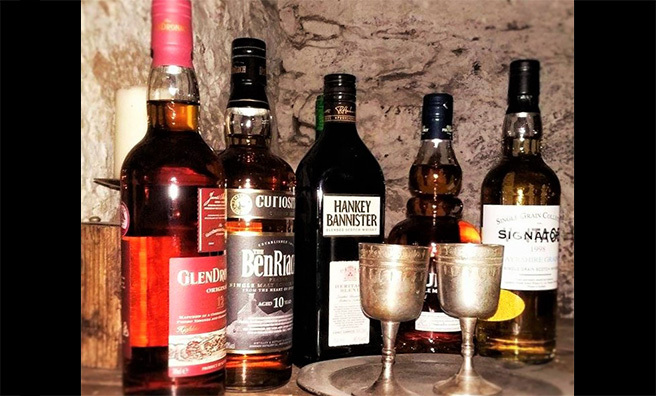 Our Garry attended the new tour with a difference at Mary King's Close, Edinburgh
When it comes to whiskies, is it the combination of grain whiskies or malts that does the trick …or is when something quite unusual is paired with it?
I've had smoked cheese and whisky once before – that worked well. But whisky and chocolate?
Well, I'm willing to give anything a try so was quite pleased to take up the invitation of the folk at Mary King's Close, Royal Mile, for a tasting tour with a twist.
The Perfect Blend is their latest innovation, tested last November and up and running again from this month, it makes for a unique whisky tasting experience in the heart of Edinburgh's Old Town.
Combining Scotland's most iconic exports, history and whisky, this tour takes guests back in time as they uncover Edinburgh's incredible hidden history whilst getting to grips with the national drink.
The history is supplied by Mary King's Close, the whisky by Royal Mile Whiskies its near neighbour.
Mark Davidson was the man who introduced myself and a multi-national group of tourists to the whisky while Alex Dickson, dressed 17th century poet Robert Fergusson, supplied the facts behind the Close – and there was much to learn.
The history of the close and its inhabitants and the political and social aspects of the day. All either very informative or helpful in refreshing previously-known and now rather misty knowledge.
Chocolate and whisky…?
Five chocolates supplied by the Chocolate Tree – milk, maple and pecan, forest fruits white, Madagascar dark and sea salt dark  – were paired with Hanky Bannister, Newtown Blend, Inchcolm, Glenfarclas and Glendronach.
Votes were requested each time and the overwhelming winner was the dark chocolate/Glenfarclas pairing. Excellent!
"We keep the whiskies the same, otherwise we'd perhaps have to change the chocolate too," says Mark. "Also, if we changed the whiskies we'd have lots of bottles opened and only partly used.
"One is a blend, so a mix of most or all regions, another is a blended malt but the exact components are secret. Just like the blend, the grain is almost certainly Lowland the Glenfarclas is Speyside and Glendronach Highland. No Islands or Islay this time but we found the spread of flavour and style we were looking for."
---
Tickets…
The Perfect Blend will run throughout the month of May and tickets are now on sale. Advanced booking is recommended and tickets can be purchased online at www.realmarykingsclose.com, by phone on 0131 225 0672 or in person at The Real Mary King's Close.