Prepare Your Tastebuds for Foodies Festival Edinburgh 2016
---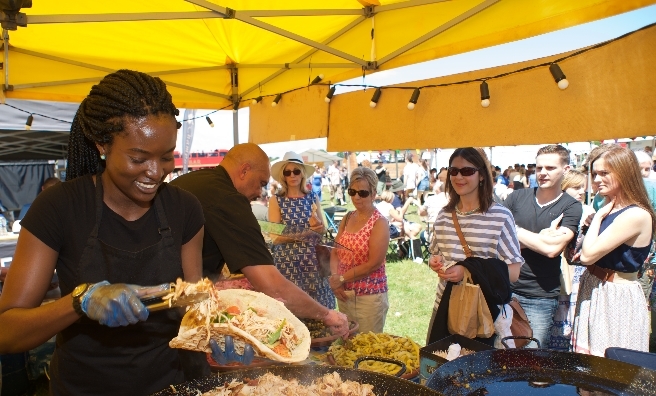 Street food from across the globe's on offer at Foodies Festival Edinburgh
A lip-smacking line-up of top chefs and new culinary features has been announded for Foodies Festival Edinburgh 2016, which will be held at Inverleith Park from August 5-7.
In the Aga Rangemaster Chefs' Theatre at Foodies Festival Edinburgh, Scotland's culinary elite will showcase their skills and share insight into this year's food trends while answering questions from the audience. Chefs confirmed so far include:
Cooking with superfoods
Visitors can also enjoy a new 'Feel Good Foods' theme at Foodies Festival this summer, with healthy living chefs and food writers cooking with superfoods including kefir, lucuma, freekeh, kelp and banana flour and experts promoting the advantages of eating 'Feel Good Foods' such as cheese, dark chocolate and seaweed.
Flavours from all corners of the world will be available on the Street Food Avenue – Japanese, Thai, Malaysian, Argentinian, Turkish, Indian, Korean, Mexican, French. Brazilian and African are just some of the flavours to feast on this summer, while celebrity chef Aldo Zilli will be serving Italian Burritos as part of his new street food offering.
Champagne enthusiasts can relax in the Drinks Theatre with 'The Fascinating Story of Champagne Canard-Duchêne and Pinot Noir' masterclasses presented by writer Brian Elliot or learn how to match wine with seasonal ingredients with TV wine expert Charles Metcalfe. Tutorials in craft beer are also available with beer critic Melissa Cole, and for those who enjoy whisky, R&B Distillers will be hosting whisky tastings.
Shop and sample in the Artisan Producers Market
A glittering array of Great Taste Award winners will be available to shop and sample in the Artisan Producers Market, which is a fantastic opportunity for visitors to meet artisan producers from the local area and across the country, learn their story and stock up on their award-winning produce.
Baker extraordinaire Charlotte White and master chocolatier Fiona Sciolti will host the Cake & Bake Theatre, inspiring festival-goers to create show-stopping cakes and delicious summer bakes. The neighbouring Chocolate, Cake and Bake Village will be selling freshly-baked breads, sponges, tarts, jellies and trifles to enjoy with a bubble tea or fresh juice.
Afternoon tea can be enjoyed in the beautifully decorated Vintage Tea Room, where teas, handmade cakes and scones with clotted cream and jam are served on china from a tea trolley.
At the Childrens Cookery School, little foodies can decorate their very own gold medal with coloured icing, glitter and edible ribbon, while pizza and cupcake making classes will allow kids to learn basic cookery skills.
A daily Bush Tucker Trial
Adventurous eaters can munch their way into the depths of the jungle with a trip to the Vietnamese Street Food stand, where those with a taste for the exotic will be able to indulge in insects, including grasshoppers, caterpillars, mealworms, beetles, scorpions, locus and ants! For those brave enough, there will be a daily Bush Tucker Trial, where visitors compete against one another by eating jungle insects!
Foodie's famous Chilli-Eating Challenge will be inviting spice fans to beat the eye-watering 16 million scoville record set by Shahina Waseem last year. Participants start at the low end of the chilli spectrum by eating bell peppers but things quickly get a lot hotter with Habanero, Scotch and Carolina Reaper (world's hottest chilli) chillies being added to the menu. Those still standing are then inflicted to pure chilli extract, increasing in strength, until a winner is crowned.
For more information, or to buy tickets, click here or call 0844 995 1111
---
What's Happening
Scotland's top chefs cooking summer recipes in the Chefs' Theatre
Celebrity chef Aldo Zilli launches his street food range
Focus on Brazilian street food on the Street Food Avenue
More award-winning producers than ever before
Champagne, wine and craft beer masterclasses
New 1920s themed Deco Noir VIP Tent
Local bands competing to win the Unsigned Music Awards