Puffin Fest 2016 Puffs In To North Berwick
---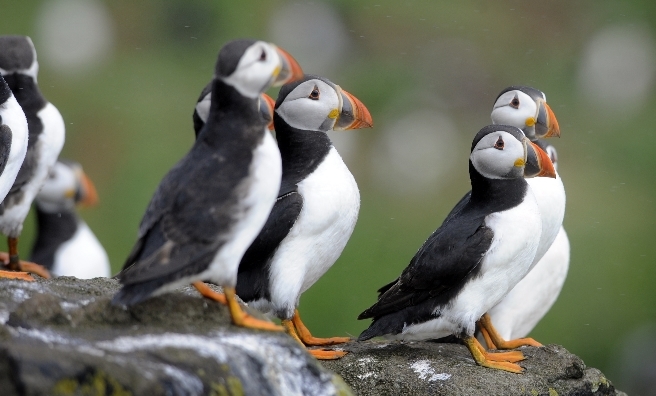 A few of the very photogenic residents of the Isle of May. Photo by Greg Macvean
There's a puffaganza of puffin-tastic fun at the Scottish Seabird Centre from 20 to 30 May with the return of Puffin Fest, Scotland's celebration of the iconic, brightly-decorated seabird.
During the 10-day festival, the award-winning Scottish Seabird Centre will host a family-friendly programme of activities, aimed at inspiring locals and visitors alike to learn more about the 'clowns of the sea', while also highlighting the importance of conserving and protecting Scotland's seabirds for future generations.
Zoom in on live puffin action
The programme features a range of activities, including:
Art workshops with the Edinburgh Sketcher and local artist Mandy Thomson;
Wildlife photography workshops with the award-winning Tom Langlands;
Puffin Parties with Forth 1 and the RSPB;
Puffin Express boat trips;
Guided walks with East Lothian Council Ranger Service;
The chance to zoom in on live puffin action on the Firth of Forth islands with the interactive live cameras in the Discovery Centre.
The largest puffin colony on the east coast
Tom Brock OBE, Chief Executive of the Scottish Seabird Centre, said: "With the Firth of Forth being home to tens of thousands of puffins between April and early August and with the Isle of May being the largest puffin colony on the east coast of Britain, North Berwick is the ideal location for this wonderful annual celebration of puffins."
Events at Puffin Fest are included with admission, except from the Secrets of Wildlife Photography (£65 per day), Speed Sketching by the Coast (£5 but you'll be entitled to half price entry to the Discovery Centre) and the Puffin Express boat trips (adults £10/ children £5/ under 3 free). Admission to the Discovery Centre is £8.95 for adults and £4.95 for children/ under 3 free. For the full programme, click here.
---
Make Your Own Puffin!
Visitors to the Scottish Seabird Centre are being asked to create their own puffin models with LEGO bricks for the chance to get free entry to the festival. All you have to do is create your own design and bring it along to the Seabird Centre during Puffin Fest.
"I worked on the LEGO bricks puffin with my dad, Gary, and it was great fun," said John Macleod (9), who created a LEGO puffin. "I hope our puffin encourages other people to build a LEGO puffin – especially if it means they get free entry to Puffin Fest!"
---
Look Out! Puffins About!
Adult puffins arrive at their breeding colony in March and April and leave again in mid-August – you'll see them on the Isle of May, Fidra and Craigleith cameras at the Scottish Seabird Centre.