Rehearse, Rinse, Repeat
---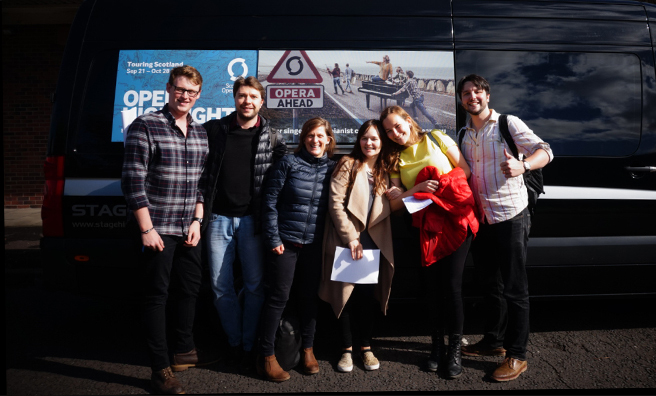 Mezzo-soprano Kate Howden tells us about the journey from the Opera Highlights script to a Musselburgh stage…
It's been a very busy past three weeks in Glasgow and we are all pretty exhausted but happy.
Rehearsals for our Opera Highlights show started on September 4 with a day of music calls. I think all of us were a bit nervous! We had learnt our music separately, but as we really got down to the details with Pianist and Music Director, Elizabeth Rowe, and grew to know each other's voices and personalities, we all happily got stuck into the great music we get to perform in this show.
The day after that we started rehearsals with Jack Furness, our Director/Designer. He revealed a secret to the plot that we hadn't clocked whilst reading the scripts ourselves, but that really adds something to the piece! We had a lot of fun piecing the show together over a week and a half.
The show follows an opera company on their never ending tour. Alexey Gusev (baritone) and I are playing the stage managers (one of whom has other ambitions too!), and Lucy Hall (soprano) and William Morgan (tenor) are the opera singers. There are lots of funny and touching moments throughout the show.
On Wednesday we set off for our dress rehearsal in the Brunton Theatre in Musselburgh, in the amazing tour bus that Rob Coupe, Company Stage Manager, will be driving all over Scotland for the rest of the tour.
We quickly found out how to plug in our music and have been sharing playlists with each other – so far we've had everything from soul to Eurovision blasting through the speakers. There are also televisions that flip down so some films might be on the cards. We discovered yesterday that Alexey has never seen Love Actually so this may need to be rectified!
Opening Night
Our first performance was in The Brunton, Musselburgh, and it seemed to go off without a hitch!
The audience really enjoyed it, and it added an extra oomph to the show to have their energy to bounce off, and have someone other than Jack laughing at the funny parts! We had a lovely reception afterwards at the theatre, before setting off back to Glasgow in the bus accompanied by some 90s hits.
On Saturday night we were in Markinch, performing in the Primary School. It was strange to get used to a very differently sized stage so quickly (I may have kicked over a footlight at one stage and walked into a few screens that I assumed would be further away), but overall I think the audience enjoyed it, and we'll get used to being aware of different spaces.
We're now actually on tour, meaning we won't be based in Glasgow for the next two weeks, but rather travelling around on our bus. I'm looking forward to getting to know these awesome people better as we travel around, and to seeing some of the most beautiful parts of Scotland.
---
More!
For the full tour dates 

click

here

, and for more cast blogs

click

here

!