Mouth-watering Return of Edinburgh Restaurant Festival
---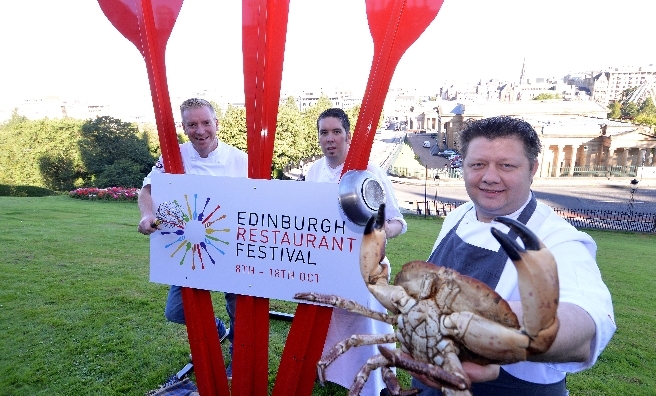 Three of the chefs taking part in the Ediburgh Restaurant Festival.
Join in with the culinary celebrations as Edinburgh Restaurant Festival returns for its second year.
From October 8-18, more than 30 of Edinburgh's best-loved restaurants, bars and bistros – such as The Tower Restaurant, No.8 Lister Square, Kyloe and Cucina – will be offerng exclusive three-course £15 lunch and £25 dinner menus.
Kicking off proceedings at Edinburgh Restaurant Festival, the ultimate Chefs' Table evening on October 8 at the iconic Royal Mile Hub will feature a mouthwatering three-course dinner, with each course prepared and introduced by one of Edinburgh's leading chefs (Paul Wedgwood; Craig Hart, head chef at One Square at The Sheraton; and Mark Greenaway). For only £25 a ticket, guests will have the one-off chance to meet the award-winning chefs, enjoy their mouthwatering creations and quiz them.
A hand-picked selection of delicious street food offerings
Other highlights include cookery demos, sampling, special offers and live entertainment from the Old Town's favourite eateries at the Grassmarket Family Food Day on October 10, Eat Walk Edinburgh foodie tours and Harvey Nichols' foodie themed movie night, complete with cocktails and three-course dinner.
The first ever Edinburgh Street Feastival (16-18 October) will close the ten-day festival in St Andrew Square Garden, bringing together a carefully hand-picked selection of delicious street food offerings. costing just £5 per dish, all set to an eclectic soundtrack delivered by some of the finest local DJs.
For more information, got to the Edinburgh Restaurant Festival website.
---
Edinburgh Rest Fest!
WHEN:
October 8-18, 2015
WHERE:
Various venues across Edinburgh's city centre
FURTHER INFORMATION:
Click here or follow @edinburgh #edrestaurantfest
---
Fun Foodie Day
On Saturday, October 10, The Grassmarket will host a free family friendly day, including their own Pizza Bar, where kids will have the opportunity to roll up their sleeves and try their hand at making their own signature pizzas, as well as taking away top tips on how to make pizza as good as the Italians!