Return to the 80s with Rewind Scotland
---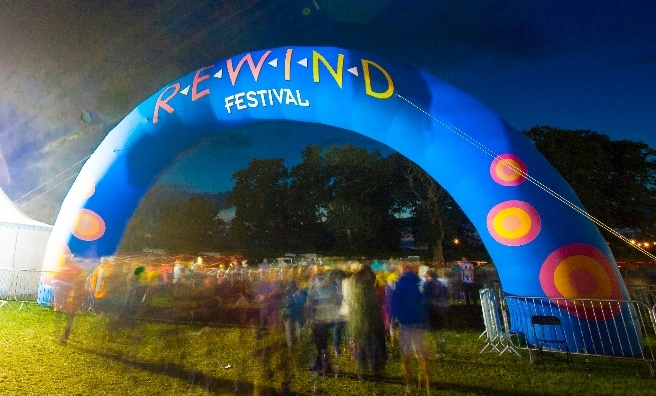 Let's Dance - at Rewind Scotland.
'Rewind Scotland – The 80s Festival' is back to give those of us who grew up in the 1980s the perfect opportunity to sing, boogie and reminisce!
Rewind Scotland will take place from Friday, July 22 until Sunday, July 24 at Scone Palace, Perth and, as with the previous five Rewind Festivals, will showcase the crème de la crème of classic 80s pop music (providing me with a great excuse to write self-indulgent captions for the photos in this article!)!
Legendary Scottish artists
This year's headline performances include Holly Johnson and Adam Ant, as well as Rick Astley, ABC, Tony Hadley, Marc Almond, Go West, Roland Gift, China Crisis, Toyah, The Beat, Annabella's Bow Wow Wow, plus many more big names, including legendary Scottish artists Midge Ure, The Bluebells, Average White Band and, making their Rewind Scotland debuts, Living In A Box, Leo Sayer, Snap, and Slim Jim Phantom from The Stray Cats.
The Rewind Scotland debut of the British Electric Foundation
One of the highlights of this year's festival will be the Rewind Scotland debut of the British Electric Foundation (who I loved way back in the 80s, when I worked on Jackie magazine – cue shameless namedropping!).
B.E.F. was thought up by Heaven 17's Martyn Ware, and will showcase a unique and dazzling performance featuring a raft of legendary pop artists. Ware has assembled a stellar line-up featuring the full Heaven 17 band performing songs made famous by the stars themselves, plus cover versions in the inimitable B.E.F. electronic pop style featuring Thomas Dolby, Black, Heaven 17's Glenn Gregory, The Noisettes' Shingai Shoniwa, Mari Wilson and The Farm's Peter Hooton.
Non-stop festival fun
The festival will also feature plenty of non-stop festival fun from the Silent Disco to the Live Karaoke Bar, as well as camping and glamping options, a kidzone, funfair, and spectacular firework display to close the weekend.
For full details of ticket outlets and prices, click here.
---
SATURDAY, JULY 23 2016
Holly Johnson
Rick Astley
Tony Hadley
Marc Almond
Leo Sayer
Go West
Living in a Box
Average White Band
The Beat
The Bluebells
Hazell Dean
Snap
---
SUNDAY, JULY 24 2016
Adam Ant
ABC
Big Country
Midge Ure
Slim Jim Phantom From Stray Cat
Roland Gift
China Crisis
Toyah
Annabella's Bow Wow Wow
British Electric Foundation ft. Thomas Dolby
Heaven 17's Glenn Gregory
The Noisettes' Shingai Shoniwa
Mari Wilson
The Farm's Peter Hooton