Rory Bremner's Scotland
---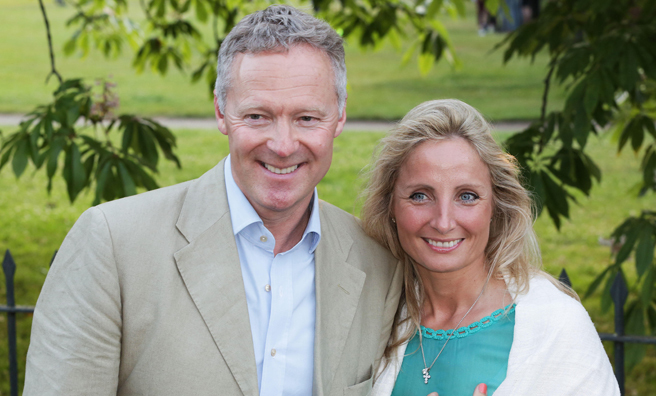 Rory, with his wife Tessa (Pic: Alamy)
According to Rory, one of the best things about living in the Borders is taking the afternoon train from London to Scotland.
The TV star splits his time between family homes in Oxfordshire and the Borders, between Jedburgh and Kelso. "As the train crosses Stephenson's magnificent Royal Border Rail Bridge at Berwick Upon Tweed and follows the river inland, my heart sings.
"I feel happier and happier the more time I spend in Scotland," reveals Rory, who is married to the Scottish sculptor Tessa Campbell Fraser. 
"I wanted our daughters to have the same wonderful Scottish childhood I had"
"My wife and I bought our house in the Borders, where Tessa's family are from, six years ago. We were spending a lot of time here anyway and I wanted our daughters, Ava and Lila, to have the same wonderful Scottish childhood I had."
Although some comedians specialise in complete routines, if not shows, about their tough and uncompromising upbringing, Rory is the first to admit that he was a very lucky little boy. 
"Edinburgh was a great place to grow up," he exclaims, recalling his upbringing in Morningside.
"We lived in a grand house in Merchiston Crescent, which had been split into small flats so we weren't quite as posh as you might think!"
Although he and his older brother went to boarding school in Berkshire, the Bremner boys spent their school holidays in Edinburgh. 
"I loved coming home from school," says Rory. "Edinburgh had so much to offer. I learnt to ski in the Pentland Hills at Hillend, I learnt how to swim at Warrender Park Baths and I would cycle to golf courses all over the place, including Gullane, which, on reflection, was quite a long way.
"Blackford Hill – one of the best views in the world"
"I'd also climb to the top of Blackford Hill, which I still consider one of the best views in the world. Looking out from the Forth Bridges, just visible to the west, sweeping over south Edinburgh, up to the castle and the old town, across to Salisbury Crags and Arthur's Seat and, in the distance, the coastline and the Bass Rock. 
"Whenever I drive around Edinburgh, so many wonderful memories come back to me," continues Rory. "When I was a student, during the university holidays, I worked as a night porter in the George Hotel. On quiet nights, I'd sometimes finish early and at four in the morning, just as dawn was breaking, I'd be walking across the Meadows as Edinburgh woke up around me. That was magical."
"The poster for my show was a photo of me naked – apart from a pair of glasses!"
Rory also has fond memories of his first Edinburgh Festival appearances. "I was in various shows at the Festival from 1981 onwards, starting off in revues and sketches with London University Theatre Group and graduating to my own stand-up routines. One year, the poster for my show was a photo of me naked – apart from a pair of glasses!
"I remember driving around Edinburgh with my mother and having to distract her every time I spotted one of my posters so she didn't see it!"
St Andrews is another place which has a special part in Rory's heart. 
"My grandfather on the Bremner side was a doctor who lived in Cupar and we often went to St Andrews after he died – always buying a bridie at Fisher and Donaldson's," says Rory. "My brother and I would play on the beach and we loved going to the Lammas Fair.
"I returned to Fife a few years ago for a spot of filming at Myres Castle, near Auchtermuchty. Christopher Trotter, the head chef, was cooking with wild venison, freshly-caught seafood and herbs and vegetables from nearby herb nursery Pillars of Hercules." 
The west coast of Scotland isn't overlooked in Rory's affections, either. 
"When a local fisherman handed in his day's catch of langoustine, we tucked into them, too!"
"Connel is another of my favourite places. When we were filming on the west coast a few years ago, we arrived in Connel on a beautiful June evening and spotted an oyster bar. We ordered Guinness and oysters and when a local fisherman handed in his day's catch of langoustine, we tucked into them, too!
"Then we headed on to Oban, where the late sunset turned into a lovely blue twilight and we were entertained by a spectacular display from a pod of dolphins in the bay beyond the harbour. The next day, we drove around a corner and were met by the spectacular view of the Commando Monument at Spean Bridge and, in the distance, the ridge of Ben Nevis, which was soon followed by the incomparable drive through Glencoe… Scotland is ridiculously beautiful."
Although obviously well and truly smitten by the land of his birth, Rory explains that work commitments and his daughters being at school down south rules out a full-time move to Scotland. "However, I love being back in Scotland, even if it's only on a part-time basis. 
"People ask me how I divide my time between Scotland and England and I always reply 'very badly' as I always have too much on.
"I'm very much a chameleon and I like to throw myself into as many new experiences as possible," admits Rory. "I'm working on a television documentary about attention deficit hyperactivity disorder or ADHD, of which I have personal experience.
"I have all the traits of ADHD – impetuosity, easily distracted, doing too many different things at once. I've always seen ADHD as my worst enemy and my best friend."
Despite his incredibly hectic schedule, Rory recently found time to take Ava and Lila on a whistlestop tour of the places across Scotland that, for one reason of another, mean something to him.
"Places like Blairgowrie, where my great friend John Fortune lived for many years, places which have played a part in Scotland's history and beautiful places such as Sutherland and the beaches on the Island of Coll.
"I feel the sense of pride that comes with being Scottish. It's the feeling I have when I watch the Scottish rugby team in the Six Nations and it's the feeling I have about the Scottish Parliament. Both the building and the concept makes me very proud and very excited."
"The stunning Borders countryside and the rural way of life have won me over"
Until recently, Rory considered himself a townie – but not any more. "The stunning Borders countryside and the rural way of life have won me over.
"I used to write sketches about this lifestyle but now I can see the attraction, especially with two pony-mad girls! I'm living in the land of the horse where it sometimes feels as though everyone rides, except me. 
"Although a small part of me dreams of the ideal Sunday consisting of a lazy breakfast with the papers before going to Murrayfield to watch a game of rugby, in reality, my favourite way to spend the day is taking the girls to a pony rally! 
"I drive the lorry, help tack up the ponies and then find a tea bar where I can daydream while they have fun. Then, after a Gregg's sausage roll sitting on the back of the lorry, it's back to our house for a late Sunday lunch. 
"My favourite recipes involves cooking the whole Sunday lunch in one pot"
"I love cooking. One of my favourite recipes involves cooking the whole Sunday lunch in one pot – chicken breasts and thighs, chunks of potatoes, lots of stock, breadcrumbs, thyme and sage. The girls just wolf it down – and I only have one pot to clean!"
Rory also enjoys eating out – and has no shortage of recommendations on the restaurant front! 
"I love Sweet Melinda's in Edinburgh's Marchmont area and I've had some lovely times at Gleneagles, while The Oyster Bar at Connel will always be a favourite. Or how about the Jigger Inn at St Andrews after a round on the Old Course?"
Rory's childhood passion for golf has continued over the years and he was involved in the Ryder Cup at Gleneagles, where he was fundraising for the Scottish charity Quarriers. 
"It's about inspiring and supporting vulnerable young people so they can make the most of their potential and rewrite their future. Tessa and I are only too aware how lucky our girls are – this is our way of helping those children in Scotland who are not as fortunate."
And with that, our time together draws to a close and the very charming and incredibly handsome Rory Bremner bids me farewell with a firm handshake. 
Rory may well have first come to our attention with his imitations of political figures and other people in the public eye, but the man behind those faces and voices is definitely the real thing!
---
Rory Bremner facts
Rory, age 54, was born on April 6, 1961, in Edinburgh
He studied German and French at King's College London
Bremner took part in Strictly in 2011 with dance partner Erin Boag, but the couple Cha Cha Cha'd out on week 4!
His impressions of top political figures are legendary, particularly Tony Blair and Boris Johnson