Masterchef in the Making
---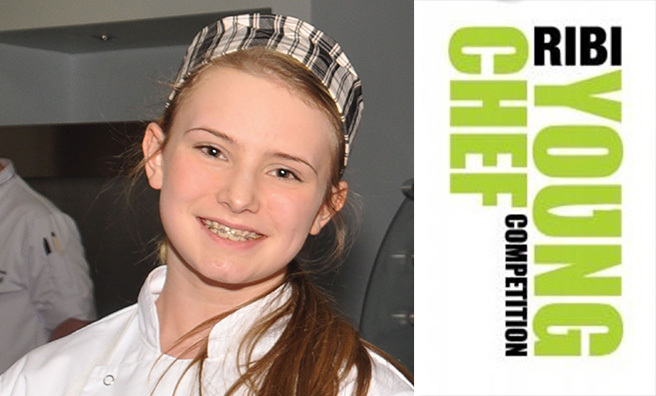 If thirteen-year-old Heather Nisbet is ever asked to help with the school dinners at Mackie Academy, there would be cause to rejoice. Because she has the skill to make it a meal to remember!
Sponsored by Rotary Club of Stonehaven District, Heather has reached the final of the Rotary International in Great Britain & Ireland Young Chef competition, in association with Filippo Berio, the UK's leading olive oil brand. She secured her place with the following three course menu, which makes you want to eat it simply by looking at it!
Starter: Gateaux of Glenmorangie infused hot-smoked and Gravadlax of the old smoked house salmon, avocado mousse, pan-fried Peterhead-landed langoustine, olive oil dressed leaf salad, tomato and dill dressing.
Main: Air-cured Achiltibuie ham-wrapped Gartmorn Farm free-range chicken breast, centred with a garden herb low-fat cream cheese, garlic-infused rooster potato puree, roasted seasonal vegetables and sweet basil pesto.
Dessert: Soft lemon cream, hazelnut and cinnamon-infused orange segments, vanilla bean and citrus fruit sauce Anglaise, tuille crisp.
the winner will experience real Italian cooking
Heather now faces seven other top young chefs from across the country in the grand final which is being held at Coleg Cambria Deeside Campus in Flintshire on April 25. At stake – a trip of a lifetime to the prestigious Toscana Saporito cookery school in Tuscany, where the winner will experience real Italian cooking, plus a prize of £250.
The finalists' dishes will be under the scrutiny of expert judges which include Filippo Berio's head chef Danilo Trozzi, winner of the 1024 competition Tom Hamblet and retired catering lecturer and Rotarian Alwyn Thomas.
President of Rotary GBI, Peter King, will be attending the final. "Every person who enters the competition is already a winner," he says. "Getting through the school and regional finals is an achievement in itself. The partnership with Filippo Berio is very much appreciated, and having the support of a family-run company where good food is at the heart of all their activities really brings this competition to life. I wish Heather the best of luck."