Colouring the Countryside
---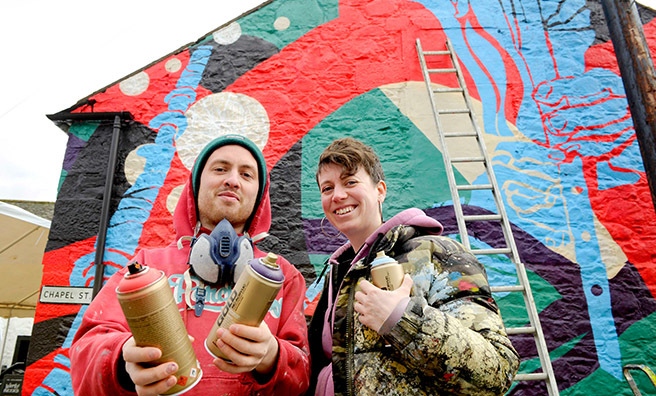 Large-scale Rural Murals spring up on buildings across Dumfries and Galloway
Three teams of national and international artists have transformed the walls of an animal sanctuary, farm and village pub with bold designs for Spring Fling Rural Mural 2016.
The murals were completed at the weekend (March 19, 20) and will form one of the main attractions for Scotland's premier open studios visual art and craft event, Spring Fling.
International street artists 44 Flavours from Berlin, Tellas from Rome, and Amy Whiten and Ali Whyte of Glasgow-based Recoat teamed up with three Dumfries and Galloway artists for the project, and selected three locations for their murals at Meiklewood Farm in Ringford, Mossburn Animal Centre at Hightae, and the Craigdarroch Arms Hotel, Moniaive.
As an added bonus, Sebastian Bagge and Julio Rölle of 44 Flavours also created a cunningly crafted doocot with local artist Rory Laycock. The two-piece art installation can be seen at Mossburn Animal Centre.
The Rural Mural project is organised by Spring Fling organisers Upland – the region's arts agency – as part of Scotland's Year of Innovation, Architecture and Design.
"It's been brilliant to watch the murals being created over the past week," said covering Upland director, Clare Hannah.
"…they are so vibrant it's been like seeing the buildings come to life."
Amy Whiten and Ali Wyllie from Glasgow's Recoat was delighted to take part in the project.
"We are very proud to have been able to produce three really substantial pieces of public artwork," said Amy, "and the reaction from the site owners have been highly positive.
"All the artists have got a huge amount from it – the international artists have been overwhelmed by how kind the people have been, and have got a really fantastic impression of Scotland and its people."
Now that the work is complete in Dumfries and Galloway, the teams will be heading to Glasgow, Newcastle and Berlin to create further works.
Amy and Ali from Recoat and Morag Paterson, who collaborated together on the Craigdarroch Arms Hotel mural will be taking part in the Glasgow mural – so keep your eyes peeled for a mural taking shape on one of the city's buildings in the coming months!
Where to see them
The murals are one of the main attractions of this year's Spring Fling, which will see thousands of visitors flock to Dumfries and Galloway.
Around 100 artists' studios will open doors to the public for one of the UK's most successful contemporary visual art and craft events.
Coloured routes of the are have been produced by Spring Fling organisers to ensure visitors can easily get between the great events, studios and Rural Murals on offer.
This year's Spring Fling will take place between May 28 and 30, and you can find more information on the event's great line-up here.