Ryder Cup 2014 Gala Concert – What A Night!
---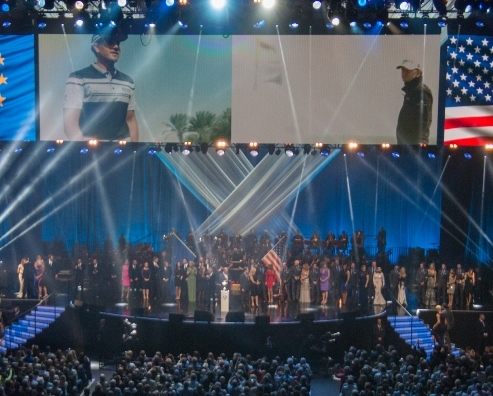 The players and their wives are introduced to the audience. Photo courtesy of DF Concerts
As our Twitter followers and Facebook friends no doubt know, The Scots Magazine team had an outing last week– to the Ryder Cup 2014 Gala Concert in Glasgow.
Determined not to miss out on even a minute of fun, we were at the SSE Hydro from the very start of the concert. As a result, we were treated to a couple of songs from one of Scotland's top bands, Twin Atlantic, followed by the very talented Nina Nesbitt.
Then, in a real blast from the past for the member of our team who used to work on Jackie Magazine, on came Danny Wilson! Reunited for one night only, Dundee's finest only played Mary's Prayer – but that was all they needed to do.
After a superb performance by Scottish opera star Andrew McTaggart, Eddi Reader showed off her stunning voice against a backdrop of Scottish images which could easily have moved a grown man to tears (or at least the afore mentioned ex-Jackie girl, who found it all very emotional!).
Then – on came Midge Ure… In his very smart suit, Midge sang a couple of his hits to great applause and although many of the crowd were desperate to hear Vienna (and The Scots Mag's Old Romantic was holding out for Fade To Gray), Midge promised he'd be back.
The second half started with a dash of culture. The Scottish National Orchestra performed a composition by Craig Armstrong and then Scottish Opera's Nadine Livingstone sang Freedom Come All Ye absolutely perfectly.
Presenters Edith Bowman and James Nesbitt, who replaced the incredibly funny Des Clarke for the second half, then introduced the members of both Ryder Cup teams. The golfers were accompanied on stage by their wives and girlfriends, leaving us feeling slightly sorry for Rory McIlory, who didn't have a woman on his arm (despite numerous offers from the crowd!).
After the teams, and the Ryder Cup, had been piped off by the Red Hot Chilli Pipers, Amy MacDonald sang a couple of songs, including a Springsteen number for Team USA. The SNO had obviously decided to stick around as they accompanied every act in the second half including Jake Bugg and, to our delight, Midge Ure.
Midge's spine-tingling performance of Vienna had at least one of us in tears (again!). No Fade to Grey but you can't have everything!
Next, the National Theatre of Scotland performed a musical excerpt from Glasgow Girls and two of Scottish Ballet's top dancers took our breath away to an intricate, intimate duet.
By now, our feet were itching to dance – and Texas were happy to oblige! Sharleen Spiteri stormed onto the stage and had us all on our feet within seconds.
The party had well and truly started – and when none other than super-cool Nile Rodgers appeared, along with two of the very funky Chic singers, there was no stopping the crowd. We disco-ed, we sang, we shouted 'Freak Out'! Even the large group of men in very smart Ryder Cup suits a couple of rows in front of us were boogying!
As our Ryder Cup night out came to an end, Donnie Munroe sang Loch Lomond and had every one of the 13,000 at The SSE Hydro singing about those Bonny Banks! What a night!