Celebrate with the Saltire Festival
---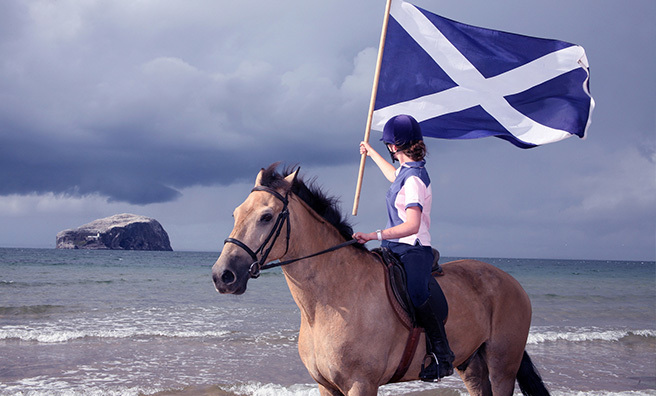 The Saltire Festival is back to celebrate St. Andrew's Day 2015 in East Lothian, Home of the Flag – and this year the festival is bigger and better than ever!
It's the place to be to celebrate everything Scottish: our delicious food and drink, our fascinating heritage, our beautiful outdoors and our wonderful culture of literature, music, comedy and films!
2015 has provided Scotland the chance to spotlight, celebrate and promote Scotland's natural larder and quality produce and The Saltire Festival is hosting a series of events between Monday, Nov 23 and Sunday, Nov 29, aimed at celebrating the wonderful food and hospitality offered throughout East Lothian.
During the week a selection of East Lothian's top restaurants and bars will celebrate St. Andrews Day with a special Scottish menu, accompanied by musical entertainment.
The very best of what's on:
Head to the Macdonald Marine Hotel in North Berwick, where we will be hosting The Saltire Wine and Dine, where our expert sommelier will guide you through 5 courses of delicious Scottish food accompanied by carefully selected wines; and The Saltire Whisky Dinner, where you will savour Scotland's national drink through an indulgent 5 courses.
The Saltire Haddington Farmer's Market and The Saltire Epicurean Encounter will also showcase a range of tempting and delicious fresh local produce.
Head outdoors to Foxlake Adventures outside Dunbar for the John Muir Winter Carnival, a celebration of adventure sports and keeping active in our stunning natural landscape! Or for an indoor activity, join us at The Brunton in Musselburgh for Scotland on Film, a showcase of the top movies filmed on location in Scotland.
The Saltire Concert will feature the talents of the Edinburgh Police Choir, which has sold out Fringe Shows for the past 2 years, and took Choir of the day at the Scottish heats for the 2014 BBC Choir of the Year and was 6th overall in the UK.
Also playing at the concert will be the wonderful clarsach player Elspeth Smellie who has had a varied career spanning 30 years, and which includes playing for the Dalai Lama and entertaining Scottish Peers in the House of Lords.
Laughs and lyrics
The Saltire Laughs and Lyrics brings the festival to a thrilling conclusion with the best of Scottish food and drink, comedy, music and fireworks!
We will be joined at the Maitlandfield House Hotel in Haddington by a phenomenal 21 comedians, compered by Scott Gibson and Raymond Mearns, and including a host of household names including Ian Cognito, Phil Kay, Gavin Webster, Gary Little, Mark Nelson, Joe Heenan, Janey Godley, Bruce Fummey and many more.
Headlining will be Tom Stade, a Canadian émigré now staying in Edinburgh, who will join us to help celebrate St. Andrew's Day. He has steadily earned a reputation as one of the most original and exciting stand-up talents around.
Our music line-up will be announced shortly, but is guaranteed to provide a rousing Scottish finale to the festival.
As you can see have a week packed with events, with something for everyone. The perfect way to celebrate St. Andrew's Day!
---
Dates
The Saltire Festival takes place between Monday, November 23 and Sunday, November 29.
For event details and how to book, go to the Visit East Lothian website here.