Say Goodbye To Winter At The Scottish Snowdrop Festival 2017
---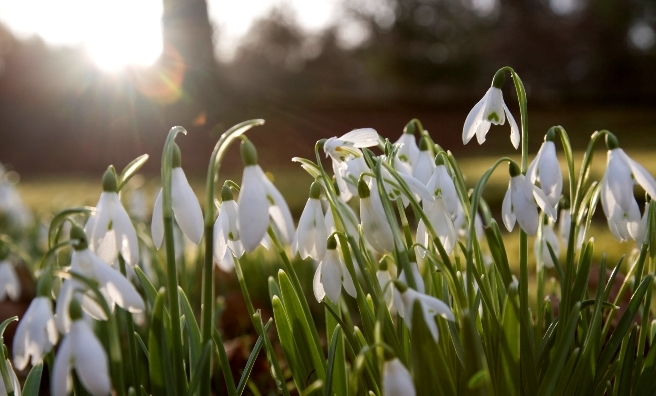 Snowdrops and sunshine at Hopetoun House, South Queensferry. Photo courtesy of Discover Scottish Gardens
More than 50 gardens, parks and woodlands all over the country are currently participating in the Scottish Snowdrop Festival 2017.
From January 28 until March 12, fabulous displays of dazzling winter white will  be celebrating this plucky little perennial, which is the first, and always very welcome, sign that spring's not too far away. Organised by garden tourism organisation Discover Scottish Gardens and supported by VisitScotland, over 50 venues are taking part in this year's Scottish Snowdrop Festival.
The Scottish Snowdrop Festival gathers together some of the best gardens and woodlands to showcase swathes of snowdrops, ensuring that you won't miss out on the arrival of these hardy and beautiful little flowers. Many of the gardens are open especially for the Scottish Snowdrop Festival 2017 and can be entered for a small ticket price, a donation or for free.
Fabulous spectacles of white carpets
The participating gardens provide fabulous spectacles of white carpets and collections of unusual, rare and specialist snowdrop species, as well as offering a variety of events and activities surrounding this popular flower. Festival highlights include Castle Kennedy in Dumfries, Edinburgh's Royal Botanic Gardens, Cambo Estate in Fife and the Abriachan Garden Nursery.
All gardens participating in the Scottish Snowdrop Festival 2017 and their event listings can be found here.  
---
Discover Scottish Gardens
Many of the snowdrop sites across Scotland are members of Discover Scottish Gardens, an organisation that aims to showcase Scotland's outstanding horticulture and plant diversity. For more info, click here.
---
Scots Mag Snowdrops
Look out for the March issue of The Scots Magazine, which includes an article about Cambo's spectacular snowdrops.