From Schemes To Big Screens
---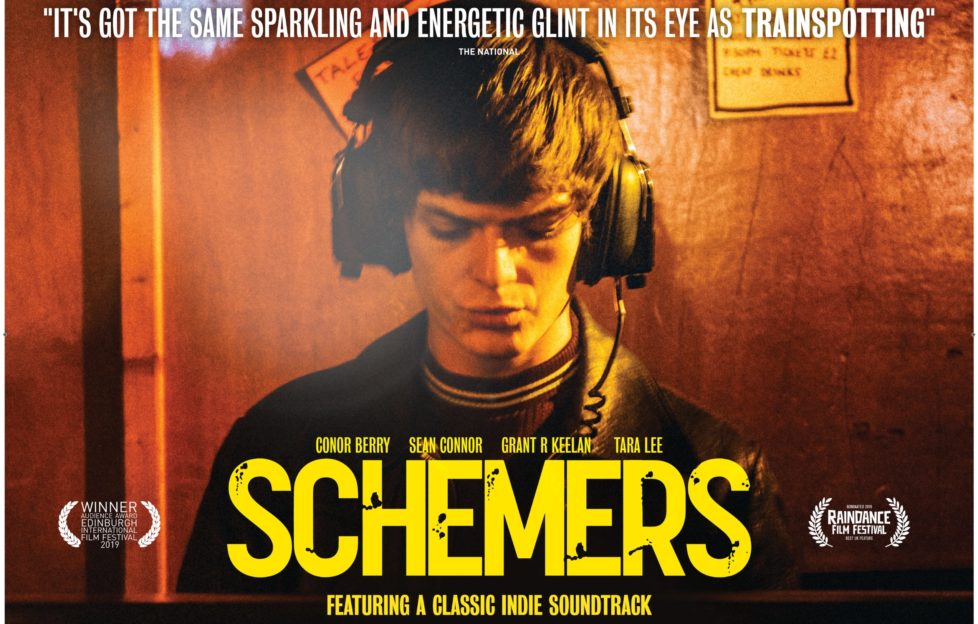 Dundee gets its cinematic debut thanks to music promoter and film producer Dave McLean's Schemers, a feature-length film and homage to his home city
Edinburgh has Trainspotting, Glasgow has Ae Fond Kiss, My Name is Joe and That Sinking Feeling to name a few, and Stirling has Braveheart. Now Dundee can bask in its own celluloid glory, thanks to Schemers, a new independent film by first-time writer/director Dave McLean. It premiered at Edinburgh International Film Festival in 2019, scooping the audience award, and now it scores the highest new entry in the UK Box Office.
The film pays homage to the city that tracks Dave's life as a young music promoter and follows the many scrapes he gets into as he makes a name for himself.
It is the first time Dundee has appeared on the big screen in a feature-length film. Not only does the film highlight iconic Dundee locations like the Caird Hall, where Dave manages to host the first Iron Maiden concert in 1980, it also features some of the most well-known characters of the city.
"I was really chuffed to get local heroes like Dave Bowman of Dundee United football team, Kevin McCabe, the Dundee street poet, and Kyle Falconer, lead singer of The View in the film," Dave says.
While Dundee is now fast emerging as an arts and culture centre, Schemers offers a nostalgic glimpse of life in Thatcher's Britain of the 1970s and 80s and the emerging Dundee music scene, featuring Groucho's record store and Beat Generator music venue.
The movie portrays Dundee at a lower, grittier point in its history. It is, as Dave observes, a rather different city these days, but the heart of it is still the same.
"It's changed a lot. Now there are better restaurants, a lot better bars. It doesn't matter, all that V&A stuff though," he says, citing the city's new design museum. "Your real Dundee is your Gary Robertsons – the street poet. People like that, the grafters who just work away."
Dave, now 64, grew up in the Whitfield area of Dundee, a notorious housing scheme, which is one of the reasons the film is called Schemers.
"We were the schemers. We were all from the schemes. Fintry, Whitfield all these places and there were no jobs or anything like that. We thought we'd do something different, we needed to escape.
"We started all sorts of crazy things," Dave says. "We did a lot of concerts with up-and-coming bands. We did gigs in bars, a lot of clubs. We made a lot of money, and we also lost a lot of money."
Dave originally hoped to make it as a football player and then as a Michelin tyre factory worker because he liked the uniforms.
"They had the best outfits – you looked like you were working for a Formula 1 team!"
Instead, he put on discos and then went on to promote huge bands including Nirvana, Oasis, Green Day, The Smashing Pumpkins, The Foo Fighters and Rage Against the Machine with his company Riverman Productions.
Now based in Bangkok, with his wife and daughter, he has lived the kind of life that people only dream of.
Although it was a complete first for him putting on a film, it didn't daunt him. "Compared to the music business, it's actually relatively easy! When you do gigs in Mexico, Chile, Argentina, Brazil and Russia – that's heavy work, but doing a film in Dundee was OK," he says.
"For us, being selected for a film festival was our main objective, to actually sell out our screenings so fast and to win the Best of British audience award at Edinburgh International Film Festival was totally amazing, one of the best nights of my life – and I have had a few," Dave says.
One of the most interesting stories in Schemers is the tale of the Caird Hall gig.
"I'd only sold about 200 tickets in advance for the Iron Maiden show because we'd done absolutely no promotion. We were useless. The band had no profile really, but suddenly they went to number 4 in the charts that weekend," he says.
Dave thought the gig was going to be a disaster, but they turned up at the venue to find more than 1000 people queued up outside.
In the film, the character of young Davie is played by Conor Berry, who is pursuing a football career when a leg-breaking tackle puts an end to his dreams.
While in hospital, he falls in love with student nurse Shona, Irish actress and singer Tara Lee, who found fame in another Scottish independent film, Moondogs, directed by Philip John.
Conor comes up with a plan to impress her, and invites her to a nightclub event that doesn't exist. With no choice but to somehow scrabble together the event, he ends up kick-starting his career as a music promoter.
Together with his DJ pal John, played by Grant R. Keelan, and a local drug dealer named Scott, played by Sean Connor, Davie starts promoting local bands and putting on bigger and better events in Dundee.
But with the cost of expanding their business essentially bankrupting them, they turn to a nightclub owner and notorious Dundonian gangster for help.
Conor Berry actually found the film casting on Facebook, "I was scrolling through and I thought this was amazing – to see a film in Dundee!
"When I read the script I thought, 'This could well be me.' Replace music with the acting business and it's the same thing," he says.
"Growing up wanting to be a footballer, getting injured and having to rethink your life. Wanting to get out from where you're from, I could definitely relate to, trying to avoid that 9-to-5 life," Conor says.
The film took around four years to complete, two years to shoot and it was all self-funded by Dave McLean, who admits it proved to be a rather more expensive commitment than he initially thought.
"It did cost quite a bit, but it's great to see the film on the big screen," he says. "We had to spend an extra two weeks reshooting scenes and recasting a few characters after the first shoot, which was expensive but, in the end, made for a much better film."
Dave is still busy in the music industry. "It would be useless to get to my age and just think, 'That's it. I'm retiring now. I'll do the allotment.'
"Who wants to retire? There are guys who are 83 and managing huge bands. All this retirement stuff, playing golf and going on cruises, it's crazy.
"You have to keep yourself young or surround yourself with young people," he says.
Naturally, the film has a superb soundtrack featuring bands like The Proclaimers and Tears for Fears to set the scene.
It has been a wonderful project for McLean and enabled him to return to his roots and create something inspiring in his hometown.
"It's pretty exciting, it's just good to be in the game. Dundee is a great city and I'm proud to tell everyone that's where I'm from, so I'll be banging the drum big time for the city everywhere I promote this movie."
On the last day, they called for locals to be a part of the Caird Hall scene – hundreds of people turned up for a re-staging of the epic Iron Maiden concert.
Whatever happens next for the film, Schemers exists as a love letter to Scotland's fourth-largest city.
Schemers is in cinemas now! Find out more at www.facebook.com/SchemersDundeeMovie
Subscribe to The Scots Magazine today read more big interviews
(CLICK HERE)
And discover more famous Scots and historical Scottish figures online >>