Scotland by Sled
---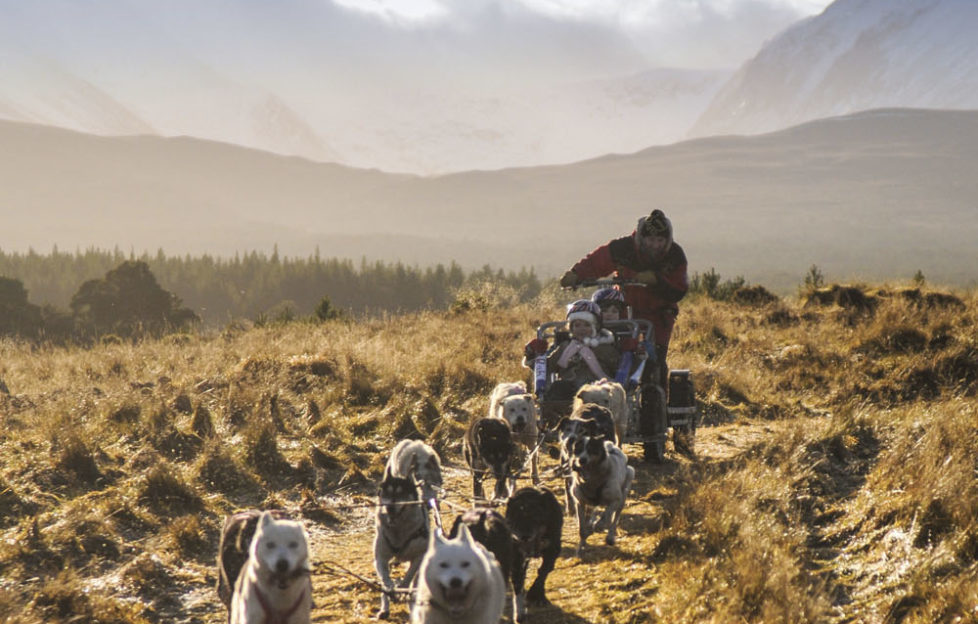 The thrill of riding Scotland by sled behind a pack of huskies is hard to beat.
The powerful dogs strain every sinew as they carry their load through the forests and across the windswept moors of the Cairngorms. It's enough to raise anyone's adrenaline levels to maximum.
But for Alan Stewart the thrill is just part of a wider experience which he has made his way of life, high up in the remote Highland scenery.
Alan and his wife Fiona live with their dogs seven miles from the nearest neighbours, running a centre where visitors can experience the way of life they have adopted. Alan also travels with the dogs across Europe, taking part in endurance races over the Alps which can last hundreds of miles.
He says his remote surroundings are therefore perfect for rearing and training his Alaskan huskies and pointers.
"I don't have any neighbours because of my dogs – this is their territory," he explains.
A life-long love
While working as a diver in the North Sea oil industry, he decided to buy his first dog as a way of bonding with his son, John, who was then seven. Twenty-two years later Alan is a successful sled-dog racer, running his centre near Aviemore, while John is competing across North America at the highest levels of the sport.
"I don't have any neighbours because of my dogs – this is their territory."
"It's a way of life; it's not just having your dogs in the back yard. It is training hard and living with them all the way through their lives, that's the difference."
The beginnings, however, were a far cry from the operation he runs now. "I started with four dogs… we did the Scottish and the British championships, which is racing.
"Racing is good if you have trained properly – the training is the hardest part, I spend seven months of the year training. It is my shout that I can dedicate that amount of time to train these dogs to compete. You can take a dog off the street and run them three miles, but when you put them into altitude over the Alps you wouldn't last the first day if they were not fit."
Need For Speed
The lifestyle element is raised again when he adds, "Racing is good fun because it proves to yourself you have done it right – but that comes with a way of life to make sure you have the respect of the dogs."
Alan, who has raced in the USA, Chile and Argentina as well as Europe and the UK, says the sport is not dangerous as long as you don't become stranded in remote country, which is where the training comes in. What makes a sled-dog, according to Mr Stewart, is the way it is trained and where it was bred.
"It is an animal that can move at horrendous speed through very cold temperatures.
"I am totally not interested in what they look like – I'm interested instead in where they come from and who has bred them."
When it comes to feeding the dogs, the quantities are huge, such is the work rate of the animals. Alan's dogs are sponsored by pet food company Eukanuba but that is supplemented by a lot of raw meat.
"We go through 30 cows' hearts and stomachs a week here."
Scotland By Sled Gallery:
---
Fast Facts
Alaskan Huskies are not a recognised breed
They're a "blend" of several Nordic breeds, selected for pulling ability
The best dogs can average 19 mph over three days, at up to 30 miles each day
They're ferocious eaters but love cuddles!
For more great adventures pick up the latest issue of The Scots Magazine. In the shops now or order online by clicking here.