Scotland Triumphs At World Sheepdog Trials 2014
---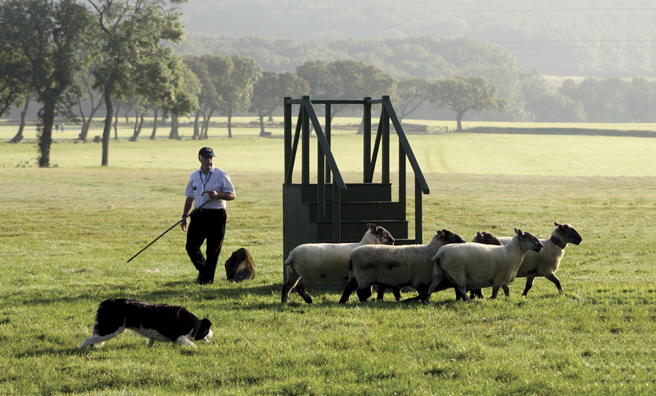 Visit Scotland / International Sheepdog Society
On September 6, after four days of highly-competitive sheep herding on a field in the north of Scotland, the Scottish team were named the winners of the team competition in the World Sheepdog Trials 2014 – with Scotsman Michael Shearer and his Border Collie Bob winning the coveted 2014 World Sheepdog Championship!
"That's the best run I've ever had, anywhere," Michael said after he'd completed his final run. "Everything went just as it should."
The winning Scottish team consisted of Michael, who is a livestock farmer in Thurso, and two dog handlers who featured in the August issue of The Scots Magazine – Ian Brownlie and Mosse Magnusson. "You're only as good as your dogs," said Ian, who lives and works on a farm near Saline.
Mosse is actually Swedish but after fulfilling the residency criteria – during which time he established a highly successful sheepdog breeding and training centre in the foothills of the beautiful Angus Glens – he was welcomed into the team.
"I'm out in the fields training my dogs every day," Mosse told me when I was lucky enough to undergo sheepdog training with him at his farm. "Sheepdogs who are trained and work in Scotland have an advantage as the sheep are so wild here. In Scotland, the sheep fly around the hill, run away and have minds of their own."
240 men and women – and their dogs – travelled from as far afield as Brazil and New Zealand to Fearn Farm near Tain in Rosshire to compete in the sheepdog world's equivalent of the Olympics. And the World Sheepdog Trials, which were held from September 3-6 as part of Homecoming Scotland 2014, also attracted over 5,000 spectators, including Princess Ann, who is the patron of the International Sheep Dog Society, organisers of this tri-annual event.
A quick glance around the show field revealed that the sheepdog of choice at the Championships was very obviously the Border Collie. In fact, almost every competitor had a Border at his heels – or dashing about the field at high speed, guiding sheep about the course, around obstacles and into a pen.
"Borders have all the abilities required," said Ewen MacKinnon, Scottish President of the International Sheep Dog Society, "Speed, loyalty, stamina and, of course, intelligence."
For more information, visit www.worldsheepdogtrials.org. To find out about other Homecoming Scotland 2014 events, visit www.visitscotland.com.