Destination Harris
---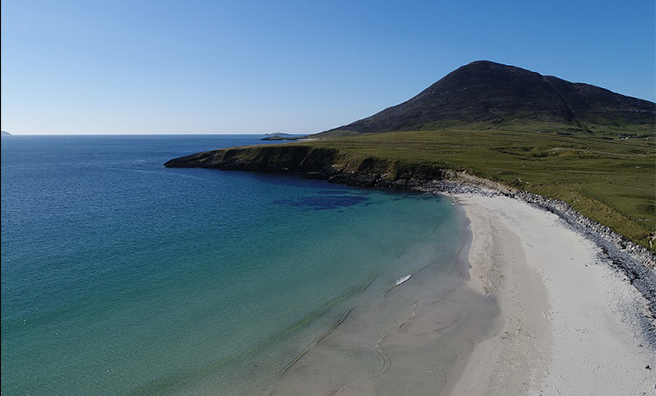 For summer travel inspiration look
no further than the Isle of Harris 
With spring moving seamlessly into summer and weather forecasts causing chaos in the suncream aisles, this is arguably the time of year when Scotland is at its very best.
We're all beside ourselves trying to figure out what to do with 25 degree weather, and frantically digging out the old maps and trawling travel blogs in search of nearby inspiration.
I feel almost as if I've had Glasgow to myself these last few days as the mass exodus of the cities has taken full effect. The fairly obvious destinations from Glasgow are Loch Lomond, Perthshire and Skye, but today I'm championing the Isle of Harris as the single best place in the country to be when the sun is with us. Here's why…
The Beaches
This will hopefully not be the first time you've heard about the Harris beaches. Word has been getting around for some time about these remarkable coastal treasures, and social media seems to have made them as famous as our great glens, lochs and castles. And yet, as talked about as they may be, you will still find that Harris is home to some of the most beautiful, desolate and unpopulated beaches in the world.
Luskentyre, Scarista, Seilebost, Hushinish….I could go on and on and on. Each has their own gripping appeal and hugging Harris' west coast is likely to be amongst the best drives you'll ever take. Whether you take the plunge or just observe manfully from a safe distance is entirely down to personal preference/levels of insanity of course.
Even if it is merely to dip your toe, however, these turquoise waters will call to you – you have been warned.
From the vast, vast golden sands of Luskentyre that will leave you feeling dwarfed to the immaculate miniature beaches of South Harris – there is a raw but natural beauty to this part of the world that gets through to you in a very different way. Expect to fall in love.
The Mountains
Although they get nowhere near the fanfare and hype that Harris's beaches are afforded, the Outer Hebrides has some truly brilliant hikes on offer.
Clisham is the highest point and a must for all the walkers out there. Moody and mysterious on a grey day, there are numerous sister peaks calling out for you when you reach the summit – a whole day on the hoof is well rewarded. While it's all about sandy coasts in the south, North Harris is mountainous and rugged. The likes of Ulabhal and Oireabhal are equal to Clisham for the jaw-drop factor (and you'll likely have them all to yourself).
My personal favourite, though, is the short but steep ascent of Ceapabhal. Facing out over the Sound of Harris and with views as far as North Uist, Skye and even St Kilda this really is something else. With the sun beaming down, the kilt proudly on, and the panoramic views simply magnificent in every direction, I was skipping around the summit deliriously. I probably looked like an extra in Tam o'Shanter, but it was the greatest feeling there is. Knowing that, at that very moment, you've found your happy place.
You can read more about the great outdoor experiences to be had on Harris on my travel blog and, for those that know this place as I do, I'd love to hear your own Harris experiences as we all make our plans for the summer season ahead.
---
Get in touch…
Get in touch with Neil and share your Harris plans or Scottish summer destinations on Twitter or Facebook.