Scotlanders | On Public Transport
---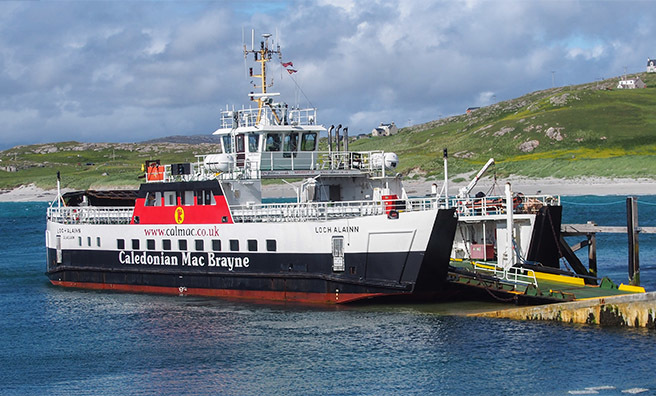 When it comes to Scotland, lack of personal transport is no excuse not to go exploring…
Okay, I admit it. I'm completely addicted to adventure.
I feed my habit as often as the annual leave from my day job permits, and failing that, my imagination takes me on journeys to remote destinations, quirky accommodations, and scenic walking routes. My urge to traverse every inch of Scotland is ambitiously relentless. I swear my blood is tartan.
I'm a perpetual dreamer, a constant explorer, and… I don't drive. Aye, that's right – a travel blogger who doesn't drive. A hindrance some might say. A bollard on my road to adventure.
This thought has crossed my mind, but while there will always be places which can't be reached without a car, I have discovered a surprising number of inspiring locations which are served by public transport. It just takes a bit of research, and enthusiasm.
Thanks to large transport operators such as Scottish Citylink and Scotrail, getting around Scotland without a car is easier than you think. Oh, and lets not forgot the dinky local buses which scoot into the country's nooks and crannies outside of the major cities and tourist hotspots.
Travelling by public transport reduces your carbon footprint considerably, and helps to minimise congestion on our country's most popular – and often narrow and windy – roads during the busy peaks.
Aside from these eco-friendly, conscience-easing benefits, I have my own personal reasons for being such a public transport mascot. I've proudly embraced public transport in all its debatable glory. It's safe to say I have grown to love it, and here's why.
Perhaps I can inspire you too…
Time to relax and enjoy the view
The thing I love most is the calm and contemplative state which I enter into as I sink into the seat. My head immediately empties itself of 'thought clutter' from the working week, or life in general, as I stare into the passing scenery, or feel the wind in my hair out on deck.
Every detail from field to fauna, river to ruin, sky to sea, can be appreciated without distraction. I don't have to focus on the road, listen to an annoying Satnav, or clutch a map upside down in true tourist style – pretending I know which turn off we should be taking.
As far as ferries go, the CalMac route between Ullapool and Stornoway is beyond beautiful, with enough dramatic coastline and infinite blue to entertain you the whole way. Shorter sailings between Oban and Mull, Ardrossan and Arran, and Barra and Eriskay, tease you with stunning views, as the quickly deliver to island shores to start your adventure before the excitement gets a bit too much
I also have to mention the Staffa Tours and CalMac routes between Mull, Iona and Staffa; sailing towards Fingal's cave on Staffa or the idyllic, peaceful shores of Iona really are difficult to beat.
My favourite bus journeys in Scotland are the Perryman's route from Edinburgh to Jedburgh through quaint towns and gorgeous green countryside, and the Hector MacNeil door-to-door bus service between Barra's famous airport and the town of Castlebay; the driver kindly drops you off right outside your accommodation!
When travelling by train, crossing the Forth Rail Bridge is the best start to any adventure, before snaking round the coast in Fife with a view across the Firth to Edinburgh. Dunkeld and Pitlochry in pretty Perthshire are soon within reach.
The West Highland Line from Glasgow to Mallaig has earned a place in my make-believe 'Favourite Experiences in Scotland' hall of fame for its varied and unrivalled serving of scenery. It's such a special journey, I'll be doing it again this week, almost a year exactly since my first trip. Which brings me on to my next point.
The Train Conductor who became a Tour Guide
The jaw-dropping scenery, spacious carriage with rows of unoccupied seats, and the few chatty fellow passengers on the West Highland Rail were enough to send my levels of public transport satisfaction off the scale, and that's without factoring in our legend of a Train Conductor, Davie Fagan.
Davie quickly noted my enthusiasm for photography, given that I was glued to the windows with my camera for the duration. He invited me into the conductors cabin where the window was open wide enough for me to sit and take clear, reflection-free images of the scenic splendours.
After years of working on this route, he knew exactly when to capture the perfect shot, and even agreed with Train Driver John Hynd to stop for a few moments on the Glenfinnan Viaduct (known by many as the 'Harry Potter Bridge') so that we could all treat our lenses to that iconic image of the arches.
We were even encouraged to step outside at remote Highland stations to enjoy the fresh air and surroundings for a couple of minutes before we departed again. It was like being on a five hour photography tour of the Highlands, on a train. This journey is the perfect incentive not to drive.
The friendly Bus Drivers
Although friendly bus drivers are considered to be a rare species in Edinburgh, they definitely do exist, and when encountered, it can be both a shock and a novelty. In fairness, there really isn't enough time to engage in pleasantries on city centre buses.
In the countryside or on far flung islands in Scotland however, the drivers often enjoy nothing more than a wee blether.
My most memorable bus journey was from Lerwick to Sumburgh on Shetland, when I had just six hours to explore the island before returning to my National Trust for Scotland cruise. The driver – an elderly gentleman with white hair and an amazing accent – looked as delighted to see me as I was to see a smiling driver.
"Oh, and what brings you here young lady?" was the prelude to some top tips for the walk to Sumburgh Head Lighthouse, and a couple of jokes. He made me repeat back to him the exact time of the return bus, just to make sure I didn't miss it and get stranded.
I wouldn't have met him if I'd been driving.
Fellow Passengers Who Become Friends
While I'm often quite content in my own thoughts or lost in the sound from my earphones, public transport is a hotspot for meeting interesting, like-minded people to pass the time with.
When I boarded the Tobermory Topper bus back to Craignure after a day pottering around Mull's iconic colourful town, I hadn't anticipated the friendship which would be formed in just under one hour
I met Susie and Ewen as we waited for the bus, and once boarded our conversation was like speed-dating; we shared a summary of our life stories before reflecting on life, love and travel. I cooed over their amazing, and highly entertaining story of meeting and falling in love just three months before – it involved Perth Races, a robot dance, and a public smooch – and they reminded me that the right person is worth waiting for.
Back in Craignure, we shared a bottle of wine and a group hug before they boarded the ferry back to Oban, and Susie gifted me a heart-shaped rose quartz, convinced that it had brought her love, and would do the same for me.
You can imagine her delight when I messaged her just two months later – it had worked!
An Excuse To Eat, Drink And Be Merry
Having to reluctantly refuse a wee tipple on a day trip or weekend away can be a bit of a dampener for both the driver and the passenger(s).
By no means is alcohol a necessary enhancement on an adventure in Scotland, but if the summer sunshine permits a few alfresco local beverages with a sea view, or if I walk into a small town pub to be greeted by toe-tapping traditional tunes and an impressive offering of single malts, I certainly don't want to have to opt up because someone has to "drive early in the morning", or even worst later that day.
Can you imagine driving the morning after a Highland ceilidh?!
The Challenge And Sense Of Adventure
Public transport can be infrequent and unreliable depending on where you are. On occasion, the simple task of getting from A to B has felt like solving a bumper edition of Sudoku, and sometimes I suspect travelling to the moon on a Sunday would be easier than catching a bus or train from a small town in Scotland.
It's a challenge, but a pleasurable one. I thrive on building travel itineraries, burying myself in timetables, scribbling notes and prices in my trusty notepad, and relishing the immense feeling of satisfaction when I finally reach my destination.
I can't contain my excitement when I board a bus, train or ferry, regardless of where I'm going. The journey is as much part of the experience as the trip itself. Public transport has taken me to the starting point for beautiful walking trails, and to ferry ports to explore the Scottish isles.
Without it I couldn't travel as freely and independently, and I would have missed the opportunity to enrich my life with so many people and places. Public transport, I love you.
What's Next…
In yet another public transport adventure, this Friday (April 8) I'm taking the West Highland Line to Mallaig before boarding the ferry to Knoydart – Britain's last wilderness – for two nights, then taking another ferry to the Isle of Eigg and four nights.
Follow my adventures by clicking the links in the box on the right
---
More Features
Check out Kay's other Scotlanders features for The Scots Magazine: