The Scotlanders | Out of Reach
---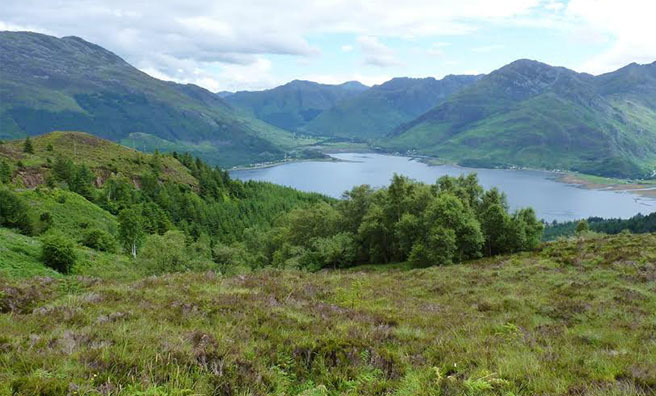 Scotlanders Susanne
Susanne, the sixth and final member of the Scotlanders, embraces a simpler existence by the waters of the West Coast
I'm Susanne, a native Scot who loves discovering the hidden gems on my doorstep. I have a huge passion for travel and been lucky enough to visit some amazing places around the world although I have never fallen in love with anywhere as much as Scotland.
When people tell me how lucky I am to live here I can't disagree; the scenery, history, food, people and culture make it one of the most interesting countries to visit and I never take for granted what millions of tourists come to experience every year.
My most recent Scottish adventure was a 3-week Highland and Island summer holiday with my husband and our lazy lurcher, Willow…
On "Eigg Time"
"You're on Eigg time now" were the departing words of our host as he picked up our bags from the ferry terminal and transported them to our awaiting yurt.
We had declined a lift in favour of the 2 mile walk to our accommodation, the perfect way to get our bearings and take in our new scenic surroundings.
Only residents are permitted to have cars on the island, and with no public transport other than the local taxi, you have little choice but to walk or cycle if you want to explore the many gems this Hebridean Small Isle has to offer.
"Eigg time" pretty much forces you to switch off from your normal daily routine and embrace a simpler existence, something I'm all in favour of.
For someone that spends an often unhealthy amount of time online I was glad to have no WiFi or 3G where I was staying.
When reconnecting with the online world involves a 2 mile walk to the only public internet hotspot, checking your social media suddenly doesn't seem quite as urgent!
Instead I enjoyed reconnecting with nature and the landscape, walking for miles from one end of the island to the other, taking in typically beautiful Hebridean beaches, fascinating history, lively music, interesting art and some quirky community attractions.
Eigg is quite unique to any island I've visited before and I can't think of a better place to unwind into your holidays and feel the stress melt away as you adapt to your new laidback time zone.
How could you not love a place with sands that sing to you and a gigantic block of volcanic rock that towers over the island like something out of a Sci-Fi movie?
An unusual abode
From Eigg we travelled to our next accommodation, a converted signal box on the Kyle Line.
This cosy and unusual self-catering apartment is perfectly situated for exploring the NW Highlands and Islands and is handily located at the start of one of Scotland's most scenic railway journeys.
We loved our week there, waving at the passing trains and visiting old favourites like the picturesque village of Plockton and a long overdue trip back over the bridge to Skye.
However, my yearning for adventure and exploring new places found me flicking through leaflets and websites in search of inspiration. My research paid off when I came across an article on the village of Glenelg, the fact that it is twinned with a namesake on Mars was enough to convince me that I had to visit!
After a short drive south and a compulsory photo stop at Eilean Donan Castle, we turned off for our first venture up the Mam Ratagan Pass which provides breathtaking views towards the Five Sisters of Kintail and Loch Duich below before it descends towards Glenelg.
The village was previously the main gateway to Skye and you can still make the historic crossing on the last manually operated turntable ferry in Scotland between Easter and October.
This unassuming little settlement has a fascinating history and two of its biggest rewards for me were the Iron-Age Brochs – including the best preserved broch on the mainland – and the Bernera Barracks, built to garrison Government troops in the aftermath of the 1715 Jacobite uprising.
As the heavens opened with a vengeance I found myself walking through thousands of years of history and I couldn't have been happier as I absorbed the rain and haunting atmosphere of my latest Scottish discovery.
Up steep gradients and around hairpin bends…
The final part of our holiday involved venturing north on a road trip. Taking in part of the Wester Ross section of the new North Coast 500 from Torridon to Strathcarron, this was my first visit to the area and what a memorable introduction it was!
We stayed at the SYHA in Torridon, a great base for exploring this remote region and our coastal road-trip from there to Applecross just took my breath away with the impossibly dramatic and beautiful scenery around every corner.
Whitewashed cottages, lochs, mountains, Hebridean islands, sheep and Heilan' Coos were some of the many picturesque subjects that had me jumping out the car, clicking away on my camera every five minutes.
After lunch at the famous Applecross Inn we tackled the notorious Bealach Na Ba, which is a road-trip adventure in it's own right.
Its steep gradients and hairpin bends offer a unique driving challenge and not surprisingly the theatrical natural features provide a stunning backdrop on this adrenaline inducing excursion.
All too soon our holiday was over but the upside of being a Scottish travel blogger is that my next Adventure Around Scotland is always around the corner.
The Isleathon Campaign
As I write this my fellow Scotlanders and I are preparing for our next campaign which we have dubbed #Isleathon.
We have teamed up with CalMac Ferries and are visiting a total of 11 Scottish islands between us over one weekend, promoting our travels on social media along the way.
Unfortunately Kim can't join us on this trip although he has just completed his own island adventure on a holiday to Lewis and Harris.
I will be travelling from my home island of Bute to Colonsay and as this is my first visit there you can imagine how excited I am!
---
More from Susanne
For more great travel tips and images from around Scotland, visit her online blog: Adventures Around Scotland.
You can also find her on Twitter, Facebook and contributing to Scotlanders blog.