An Essential Role
---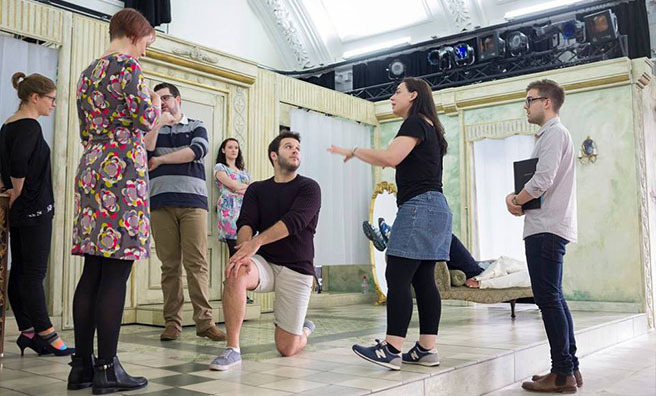 Hello from Lossiemouth!
Scottish Opera's Così fan tutte cast and crew had a five hour journey yesterday from Glasgow to Lossiemouth, which gave me plenty of time to have a chat with a very special member of our team…
PJ Harris is our Assistant Director and is travelling with the cast throughout the tour. He comes to every single show and takes notes on each performance, so there'll be no slacking from any of us! I conducted an impromptu interview with him so that you can get more of an idea of what the Assistant Director does and some of the ups and downs of rehearsing a show like this one.
So PJ, you're the Assistant Director for Così fan tutte, what exactly does that job entail?
It's quite a varied job. You have to support the director in any way that they deem necessary, and for the company you need to create a production book so that if the production gets revived, that book will be used by the revival director to help them figure out the show.
Generally, supporting the director involves taking notes, helping them with creative decisions if they're not sure about something, or if you have a particular skill like choreography or fight training, you would offer your expertise in that. You also work with the company to create weekly rehearsal schedules and often have to juggle the singers' availability.
Can the scheduling be quite complicated?
Yes, often singers are unavailable and there might be only one scene that you can rehearse on a particular day.
It can be quite tricky because singers sometimes need to go away to do other concert work so you will end up rehearsing a piece in a higgledy piggledy way – rather than working through it chronologically.
It is an added challenge for a director to have a vision for the piece as a whole but to be unable to work through it in the way that you would with straight theatre.
Have you ever worked on a Così before? What are the particular challenges that it throws up?
This is my first Cosi. There are huge challenges with the piece.
For a modern audience, the text can be quite misogynistic, so you either have to embrace that and accept it for the period in which it was written, or you can explore some ways to remedy that.
Also to give truth to the women in the opera, you have to create a situation that's quite credible, which is quite difficult when you have a scene where two guys that they know come back dressed as other people and the women don't recognise them.
The way you deal with all that will depend on what you're after – whether you want a production with a lot of truth to it or a more light-hearted comedy. Perhaps you would twist things around with regards to which characters are in on the plan or the game.
The ending is also very open so there's a lot of scope for interpretation – it can go in many different directions, which I think is one of the great things about the piece. It could be produced hundreds and hundreds of times but you'll see a different show with each production.
Is there anything about our production of Così that you particularly enjoy?
In this production, I think one of the most interesting ideas is that it's set in the fifties and the girls have just set up their own shop.
It's quite a radical approach because it makes them quite strong and independent women. It gives the women a position of power that they may otherwise not have. Setting it in a dress shop is a nice idea – it gives opportunities for fun, play and disguise and we've also chosen a period with a lot of glamour and dresses that are beautiful to look at.
So I think that the strengths of the production are that there are plenty of interesting ideas at work and it also has a very beautiful aesthetic which means that it can appeal to a wide audience.
If you could direct any opera, what would you choose and why? 
That's a tricky question! I'm a very big Britten fan, so one of the first operas I ever wanted to direct was The Turn of the Screw. I like twentieth century texts and composers like Tippett and Ades so anything like that would be interesting.
On the other end of the scale though, I'd like to direct Xerxes by Handel. I like Handel a lot, and I think that although it's a very stylised form of opera, for me he is one of the most dramatic composers.
They're very classic stories but can be translated into many different situations and you can go in so many different directions with them. It's the openness of the operas that is so appealing to me. The structure of it can seem limiting, but in reality, it actually frees you.
Finally, what is next for you after Così?
Immediately after this, I'm directing some scenes for an Emerging Artist Recital [with Scottish Opera Emerging Artists Jennifer France and Ben McAteer] at University of Glasgow Concert Hall on November 26th.
Then I'm going to Lyon for a few months to work on the premiere of a new piece called Benjamin, Derniere Nuit which is in French, English and German, so that will be quite a challenge.
I still don't know what language we'll be rehearsing in – the creative team is English, the production and management teams are French and the casting is international so I imagine it will be a mix of French and English.
So how is your French?!
 It was good…! I lived there for a year but it's been a while since I've had the chance to practise so I might be a bit rusty at first. Hopefully it will come back quickly!
That's all from the behind-the-scenes blog this week. Next week the Così fan tutte tour bus is heading to Elgin, Haddo House in Ellon and the Deeside Theatre in Aboyne – hope to see you there!