Why France Loves Scottish Salmon – Sponsored
---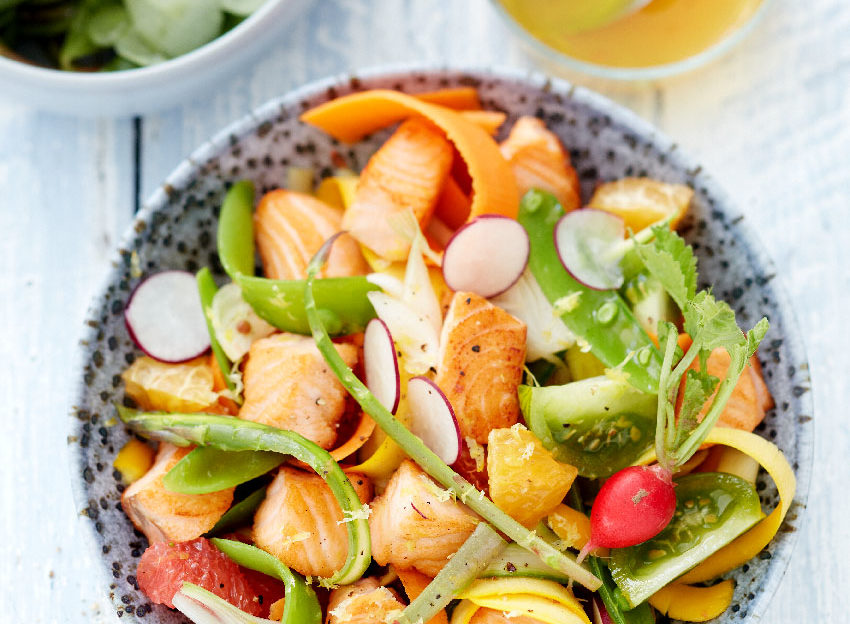 France is the biggest export destination for Scottish salmon…
Not many people know that Scottish salmon is the largest cargo to fly out of Heathrow – the busiest airport in Europe. And one country that cannot get enough of our national fish dish is the food capital of the world, France.
In fact, the country imported 36,000 tonnes of Scottish salmon in 2019 and is the biggest export destination for salmon. That's because Scottish salmon is held in high regard by the Master Chefs of France, or the Maîtres Cuisiniers de France, an association founded to maintain and promote the culinary arts in France and beyond.
But the popularity of Scottish salmon has been boosted even more so in the last 28 years by being awarded Label Rouge accreditation in 1992. This well-known mark signifies extremely high quality produce in France and sets the standard for Scottish salmon.
Celine Kimpflin, Head of Markets for Scottish Sea Farms, explained that Scottish salmon was not just the first Scottish product to carry the relabel: "Label Rouge is a French certification and Scotland was the first non-French country to achieve it.
"There are rules about density, feeding and welfare and only the very best fish get the label and a unique number for every single salmon."
She said the market for this premium product is "a niche market but it is high-quality and high-value."
Today, 10,000 tonnes of all France's imported Scottish salmon currently carries the red label mark and this is produced by The Scottish Salmon Company, Mowi Scotland, Scottish Sea Farms, Loch Duart and Cooke Aquaculture.
Like the majority of food producers, the Scottish salmon sector did not escape the challenges brought about by Covid-19.
Cameron Sutherland, the new Development Director of Scottish Quality Salmon (SQS), explained: "In January and February we were maintaining the sales, then when March came, we were under huge pressure as restaurants were closed overnight, so there was a significant reduction in sales, but at the same time, there was a strong performance in retail – so one part of the market literally disappeared while the other part was growing.
"Naturally the salmon sector has tough targets to hit, but Label Rouge has an important part in helping Scottish exports perform and my role is to maintain and grow our sales here in France. It will also involve building salmon farmers' and producers' relationships with importers and distributors."
Edinburgh-born Cameron now lives in Paris after being appointed his new role at SQS. It was important for the former marketing manager, who has worked for many years in the food and drink industry for big brands, to take on a role that allowed him to promote a Scottish product and he is delighted he found that role in the aquaculture sector.
And where better to boost sales of these products than in France, a country that already has an affiliation to Scottish salmon.
Cameron added: "Historically, France is a country where they enjoy good food – it is the home of gastronomy – they know good cheese, good meat and they know good salmon. Restaurateurs recognise good quality, and Label Rouge stands for the highest quality.
"Chefs in France use Scottish salmon because of its quality, how it looks and how we care for the fish being farmed. I work closely with them and took French master chefs over to Scotland to see the salmon being farmed."
One French chef who is a fan of Label Rouge Scottish salmon is celebrity chef Cyril Lignac who owns the Michelin-starred gourmet restaurant Le Quinzième in Paris and has his own hit TV series in France. Another is Julien Largeron. Julien won the Prosper Montagné prize in 2017 at the age of 28 and may be one of France's top young chefs, but he has already discovered the benefits of using red label Scottish salmon.
Julien, who works at Restaurant Les Fresques at the five-star Hôtel Royal in Evian Les Bains, said: "I always choose Scottish Salmon Label Rouge because I know its farming methods are strictly controlled and the feed is of the highest quality resulting in a firm texture to taste and delicate aroma.
"We chefs also know that it was the first fish product outside France to be awarded the prestigious Label Rouge which also represents ecologically responsible farming of salmon, and delivers a taste which is unbelievable."
For Scots, like Cameron Sutherland, who dine out in France, it is always a joy to see a home-grown product on the menu. Proud of his roots and his role in boosting the sales of Scottish salmon there, Cameron admits: "When I see salmon on the menu I am like an excited little boy! It's because I am passionate about it – and not just about salmon, I also still get excited if I see a Tunnocks Caramel Wafer on the shelf of a store – that's because I love Scotland and I always try to make sure that people know I am Scottish.
"I don't think there has ever been a more important time to shout out about the best Scotland has."
Facts about how Scottish salmon is distributed:
• The main distribution centre for the salmon industry is in Larkhall, Lanarkshire. Most
containers are loaded on to lorries to head for mainland Europe or Heathrow.
• Speed is essential to guarantee the freshness of the salmon. The fish go from farm to airport in
24 hours and can be on the table anywhere in the world within two to three days.
• Larger salmon are sent to the sashimi chefs in Japan and China.
• The European market prefers smaller fish with a uniformity of size to help portion control in
the restaurant.