Scottish Snowdrop Festival Celebrates First Signs of Spring
---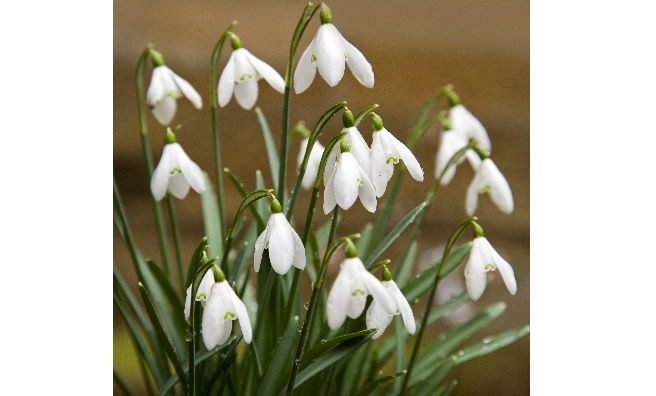 The Scottish Snowdrop Festival returns to gardens throughout Scotland from 30 January to 13 March 2016, as thousands of beautiful snowdrops appear across the nation to create stunning displays which hint at the approach of spring.
During the Scottish Snowdrop Festival, almost 60 gardens across Scotland will showcase their snowdrops in walled gardens, historic castles, nature reserves and even a school. Some of the venues open exclusively for the festival and many offer delicious local food in their restaurants and cafés, which visitors can enjoy after wandering through the idyllic displays.
As part of the festival, a variety of unique experiences will be on offer, including a night sky observatory experience, an atmospheric night-time display of snowdrops and piglet feeding!
NEW gardens taking part this year include:
Craigengillian Estate, Ayrshire
After exploring the snowdrops, visitors will be able to visit the Observatory as it gets dark (approx. 5:30pm), where the Resident Astronomer will give a presentation and, if the sky is clear, visitors will be able to star watch through the powerful telescope to find the Milky Way, shooting stars, planets, comets and maybe even the Northern Lights.
Dates: 21 Feb 2016
Open: 15:00 – 19:00 (pre-book only)
Cost: Adult, snowdrops only £3. Adult, observatory only £12; Child, snowdrops only, free. Child, observatory only £4; Seniors , observatory only £8
Craufurdland Castle, Kilmarnock, Ayrshire
Enjoy a ramble through the woods and grounds of the historical and beautiful Craufurdland Castle to explore the Snowdrops Woods (wellies advisable).
Dates: 23 Jan – 14 Feb 2016
Open: Please phone for times: 01560 600760
Cost: Adult £3, concessions £1.50, children free
Barjarg Tower, Dumfries & Galloway
Barjarg Tower's gardens have undergone considerable development since they were last opened to the public, though the carpets of snowdrops in the surrounding woods and swathes of daffodils that line the driveway remain a tribute to the care of earlier generations.
Dates: 24 Feb – 27 Feb 2016
Open: 10am – 4pm
Cost: Honesty box
Further highlights:
Cringletie House, Peebles, Scottish Borders
Cringletie enjoys millions of the Genus Galanthus Snowdrops, believed to have been planted and grown  since the days of the Crimean War, when soldiers brought them back from their time serving in the army. Following on from the success of the event in 2015, beautiful lightingwill showcase the flowers after dark.
Open: Daily from dawn to dusk
Cost: Free
Abriachan Garden Nursery, Killianan, Inverness
Abriachan Garden Nursery boasts over four acres of exciting plantings with winding paths through native woodlands and views over Loch Ness.
Dates: 1 Feb – 13 March 2016
Open: 9am – 7pm
Cost: £3 per ticket.
Royal Botanic Gardens, Edinburgh
The Royal Botanic Garden Edinburgh has a fascinating collection of specialist snowdrops. Join a Garden Guide on a walk to discover the collection.
Dates: 12 Feb – 6 March
Open: 11am – 12:30pm
Cost: Adult £5, ages 14+ only
Tours: Every Friday, Saturday and Sunday from 12 Feb – 6 March
House of Dun, Angus
Stroll through Lady Augusta's walk to view the carpet of snowdrops throughout the wooded den. Along the way you will find information relating to their history and differing species.
Dates: 30 Jan – 13 March
Open: 9am – dusk
Cost: Adult £2, child free
Blair House, Ayrshire
For one special night in February enjoy beautiful displays of snowdrops in this lovingly-restored garden. Stout footwear recommended.
Dates: 14 Feb
Open: 11am – 4pm
Cost: Adult £4, child free
Cluny House, Aberfeldy
Enjoy the beautiful display of snowdrops in this exceptional wild woodland garden overlooking the scenic Strathtay Valley – and look out for the red squirrels.
Dates: 30 Jan -13 March
Open: 10am – 4pm
Cost: Adult £4, child £1
Kilgraston School, Bridge of Earn
A wonderful opportunity to see the snowdrops whilst exploring the woodlands and surroundings of this  unique garden, where impressive sculptures intermingle with ancient trees.
Dates: 21 Feb
Open: 1:30pm – 4pm
Cost: Adult £4, child £1
Cambo Gardens, Fife
Discover a snowdrop wonderland with woodland walks to the sea. In addition to this national collection of snowdrops, Cambo Gardens also offers daily guided walks featuring piglets to feed.
Dates: 30 Jan – 13 March
Open: 10am – 5pm
Cost: Free
Lochwinnoch Nature Reserve, Renfrewshire
Stroll through the snowdrop woods alongside one of the few wetlands left in west Scotland. Look out for the whooper swans and elusive otters along the way.
Dates: 30 Jan – 13 March
Open: 10am – 5pm
Cost: Adult £3, concession £2, child £1.50
Hopetoun House, Edinburgh
The stunning Hopetoun House enjoys 150 acres of rolling parkland which includes several walks and two nature trails with superb views over the deer park and the River Forth.
Dates: 21 Feb
Opening: 10.30am – 4pm
Cost: Adult £4.25, concession £3.75, child £2.50, family ticket £11.50
Full details of the participating gardens can be found by clicking here.
---
Snowdrop Holidays!
"The Snowdrop Festival is a fantastic reason to plan a visit to Scotland in the winter months," said Sue Bourne, manager of Cottages & Castles, which has a number of holiday lets available from which to fully enjoy and explore Scotland's snowdrop, inlcuding Cairnie South Tower near St Andrews.
"Particularly spectacular are the range of specialist snowdrops at Cambo Estate in Fife ,which will be celebrating the 10th year of the snowdrop festival."
For further information, click here.
---
NTS Snowdrops
Six National Trust for Scotland properties are taking part in the Scottish Snowdrop Festival from 30 January to 13 March.
Some of the charity's best snowdrop sites are taking part in the annual celebration – Culzean Castle and Country Park in Ayrshire, Greenbank Garden in Glasgow, Balmerino Abbey, Kellie Castle and Hill of Tarvit in Fife and the House of Dun in Angus.
The charity is also hosting some snowdrop walks at properties in the Lothians – join the Lothian ranger at House of the Binns near Linlithgow on Saturday 20 January at 1pm and at Newhailes in Musselburgh on Sunday 21 February at 10.30am and 1.30pm.
For more information and booking, click here.