Opera Highlights 2019 – Bringing The Show To You
---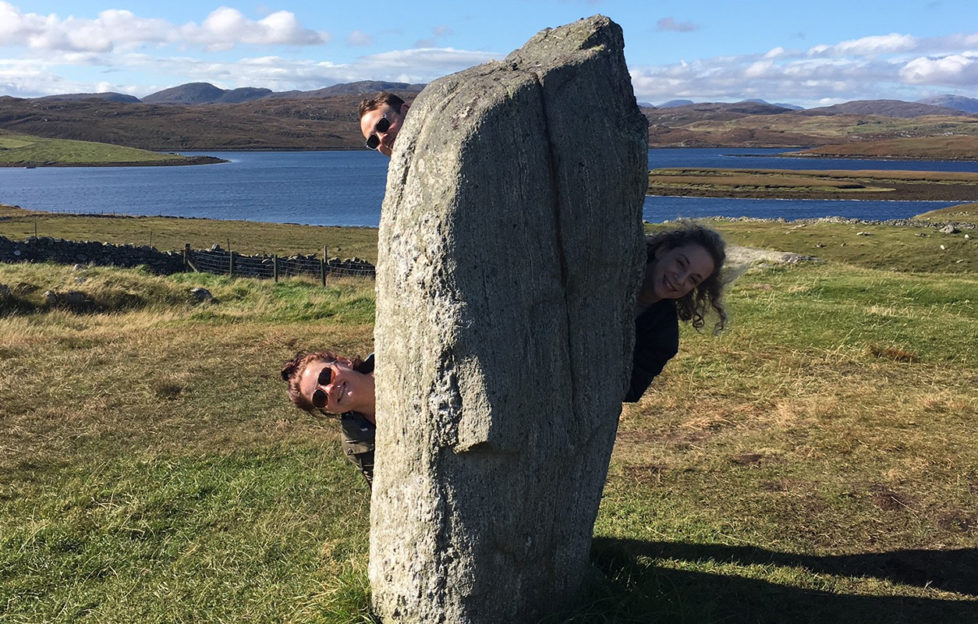 Scottish Opera Marketing Officer, Helen Macdonald, continues our Opera Highlights 2019 blog series with a behind-the-scenes look at pulling the show together
I'm one of Scottish Opera's Marketing Officers, so for me Opera Highlights starts long before rehearsals begin. My job is to find our audiences – whether we're in a small theatre in the central belt – or a village hall in the Highlands. As well as working with our talented graphic designers, I work with the director of the production to help promote the show, and give an idea of what people will come along and see.
This Season, Roxana Haines has been at the helm of Opera Highlights, and the theme of the garden party that threads through the production has been at the heart of our marketing campaign. We've been lucky to work with Lauren Humphrey, an award-winning illustrator to create the design you see on the posters and flyers.
Over the summer months, I get in touch with venues that we are going to visit – working out who their audience members are and how to reach them. Once opening night comes around, my out of office goes on and my bag is packed for heading out on the road with the four singers, pianist, stage managers and touring manager.
This Autumn is my third tour, and it's great to go back to some of the venues I first visited a year ago such as Ullapool, Stornoway and Portree. My favourite thing about being on tour is meeting the many lovely people who I speak to over the months before a tour starts, and at the performances it's rewarding to see a bustling venue full of people head out on a chilly night to come to their local village hall or theatre.
Opera Highlights audiences are some of the friendliest I've ever come across – there's a real appreciation for us visiting. Usually the cast come out to meet the audience at the end of the show, which creates a nice buzz.
As we travel around Scotland, word gets out about the tour. Last year we met a cyclist who was pedalling the North Coast 500 from Wick to Inverness (we felt tired just travelling in the van)! He asked about the tour and a few weeks later, he turned up at a show hundreds of miles away from where we met him when he was back home, and he came and met the cast backstage at the end.
We sometimes meet people who have come to a show early in the tour, only to see them again at another venue, because they've loved the show so much. People are also great at spreading the word to family and friends to encourage them to come along on their recommendation.
In Stornoway, we had a group of music pupils sit in on the afternoon rehearsal, and then come back for the show in the evening. Speaking to them afterwards, some of them had seen Opera Highlights last year, and were keen to see this year's show. It's so encouraging when young people come along to the show – it's accessible and they especially loved chatting to the cast afterwards.
It's not all work for us on the road – on our days off as well as getting to see some of the most beautiful parts of Scotland, we've been tucking in to local seafood in Ullapool, climbing hills to reach the best views, sampling local whisky in Speyside and visiting the Standing Stones at Callanish. Stornoway black pudding (MacLeod's of course) and the Harris gin distillery have been just some of the food and drink highlights so far.
I'm excited to head to the north of Scotland this week – to Thurso, Kirkwall and Haddo House, before coming back for the final week of shows in Stranraer, Greenock and Musselburgh.
My tour essentials:
Podcasts – great for long journeys in the van.
A travel mug – we try to be as eco-friendly as possible when touring. Helpful when you drink as much tea and coffee as we do on the road. Emergency snacks are also very important!
A waterproof jacket – it is Scotland after all…
For more information on this year's Opera Highlights click here>>
And to purchase tickets visit www.scottishopera.org.uk