Shop 'Til You Drop at Dundas Castle
---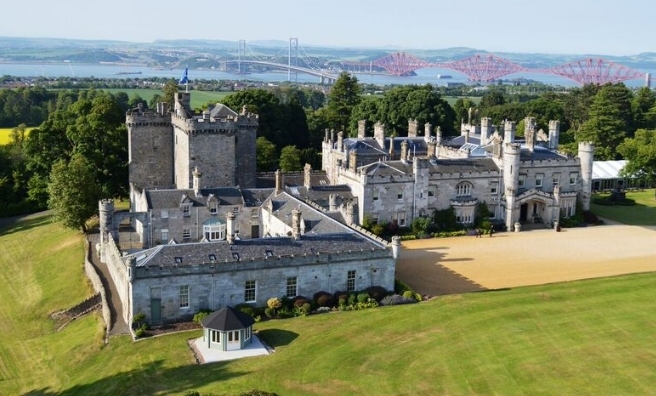 Dundas Castle
Today's scarey thought – we're almost halfway to Christmas! And if that thought has instantly inspired you to think of Christmas shopping, add Dundas Castle Autumn Fair on September 27 to your diary!
Lady Julie of Duntreath Castle and Lady Lydia of Dundas Castle are currently organising the Dundas Castle Autumn Fair. This year, CHAS and Music in Hospitals have been chosen as the beneficiaries of this long-established annual event.
For one day every autumn, the beautifully decorated state rooms and spacious pavilion at the South Queensferry castle are taken over by 28 stalls from all over the UK.
An irresistible selection of ladies clothes, jewellery and lifestyle
Tickets to this very popular fair cost £10, with the stalls which sell their wares at the stately home being specially selected to provide an irresistible selection of ladies clothes, jewellery and lifestyle to accommodate every budget, while also providing quality and originality.
Styles run from ultra-glamorous to everyday and country wear, jewellery from inexpensive to exotic, and lifestyle products from traditional to eye-catching. And, as well as absolutely fabulous shopping opportunities, shoppers can top up their energy levels with sandwiches and home-baking.
---
Dundas Castle
Henry Dundas built the 'modern'

Dundas Castle

in 1818, replacing an earlier 17th century building.
The new building and its gardens cost so much, the Dundas family had to sell the estate in 1846.
Dundas Castle now belongs to Sir Jack who began serious restoration work when he inherited it in 1995.
Dundas Castle is one of the UK's top 5-Star Exclusive Use venues.
In 2017, Dundas Castle's 'Auld Keep' will celebrate its 6ooth anniversary.