Snow leopards unleashed at Highland Wildlife Park
---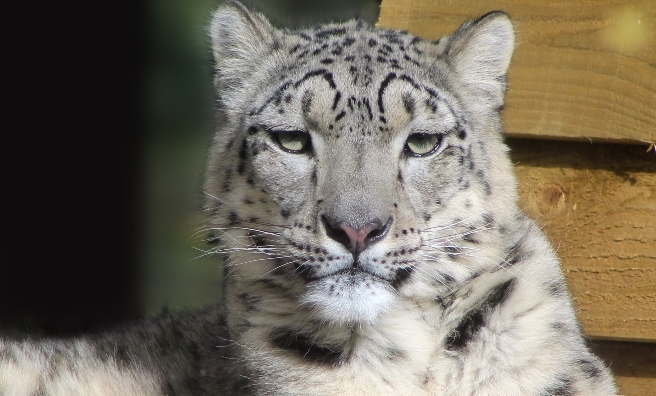 Animesh, the female snow leopard at the Highland Wildlife Park. Photo by Katie Paton/RZSS
Chan and Animesh, the pair of endangered snow leopards who were welcomed to RZSS Highland Wildlife Park in July, have moved into their new, custom-built enclosure.
The snow leopards' new home at the Highland Wildilfe Park is a large hill-top enclosure overlooking the Spey and the Cairngorm Mountains, and consists of a large grassy plateau, a steep cliff face and plenty of space to roam, as well as an additional public walkway providing visitors with the opportunity to see these beautiful cats close up.
'Purpose-built to replicate their natural, rugged environment'
"It's wonderful to see our snow leopards settling well in their new enclosure," said Douglas Richardson, Head of Living Collections at RZSS Highland Wildlife Park, which is near Kingussie. "We've had the spot in mind for snow leopards for years and it's great that they've taken to the space we have created for them.
"The new enclosure is purpose-built to replicate their natural, rugged environment, echoing their hunting grounds between 9,800 and 17,000 feet high in the mountains of Central Asia."
The natural prey of snow leopards in the wild
Chan and Animesh are a recent addition to the RZSS Highland Wildlife Park collection, arriving after RZSS signed a three-year agreement with the Snow Leopard Trust and Nordens Ark in Sweden, who co-ordinate the European breeding programme.
The agreement is a joint project focusing on Pallas's cats and snow leopards and involves field research being carried out to both aid conservation efforts and provide an educational tool for these amazing species.
There are as few as 3,500 to 7,000 snow leopards left in the wild
Listed as Endangered on the IUCN Red List, it's estimated that there are as few as 3,500 to 7,000 snow leopards left in the wild, making the 400 or so animals in the international managed zoo population all the more important.
The species is specifically adapted to living in cold and mountainous environments, with thick fur and wide paws which act as snow shoes to evenly distribute their weight for walking on snow, as well as a thick, bushy tail used for balance and grip.