Sounds of the Neighbourhood
---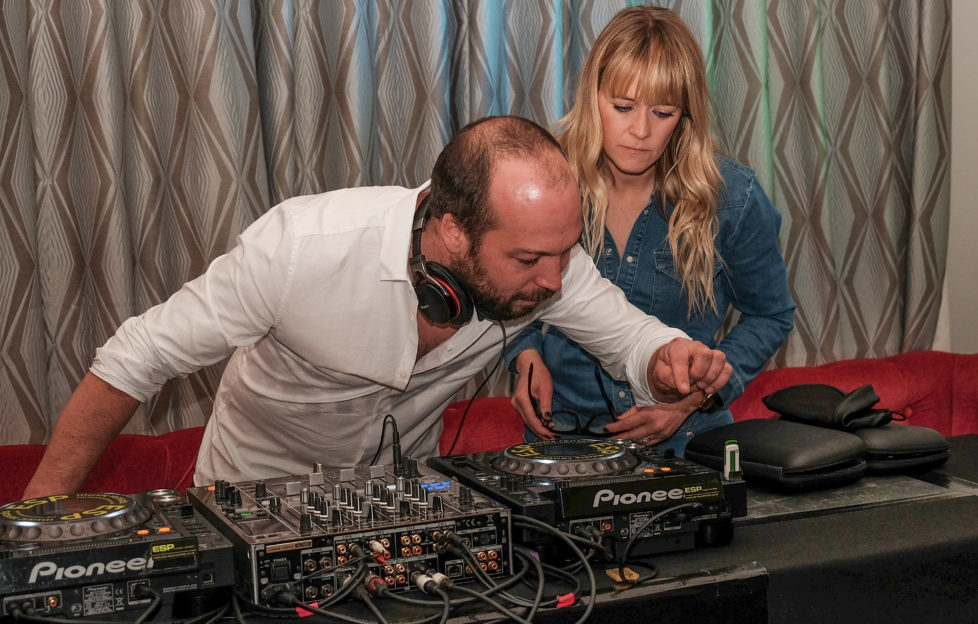 Glasgow's Hotel Indigo present their Sunday Socials with Edith Bowman, Mylo and plenty of cocktails…
No Sunday is complete, in my opinion, without a roast dinner, good company, a wee tipple and some great music – and it seems that in Hotel Indigo I have found a useful ally. Their combination of 3-course dinner, live DJ set and original cocktails on Sunday, November 29, was right up my street.
The world-wide hotel group is anything but another faceless chain, and their Sunday Socials came about as a proposed way to connect their London, Liverpool and Glasgow hotel branches with local communities.
Edith Bowman was enlisted to help, and she soon joined forces with local DJs from Jazzie B(London), Dave McCabe (Liverpool), and Mylo (Glasgow) to create Sounds of the Neighbourhood playlists, before performing them at live Sunday Socials in each city's hotel.
Glasgow's turn was on November 29, and at 1pm we sat down to a full 3-course roast dinner from hotel restaurant, The Marco Pierre White Steakhouse, Bar & Grill – his only restaurant in Scotland. White calls his cuisine "affordable glamour", and I have to agree; the quality of produce, and flavour of the finished meal is high, but the price isn't as steep as a celebrity chef label could demand.
Melodic sunshine
The battering rain outside could not dampen the atmosphere, being drowned out by the melodic sunshine of Belle and Sebastian from Edith's playlist as we sipped Glenfiddich Godfathers (Glenfiddich 12 Year Old and Disaronno on the rocks – a potent combination) and marvelled at our surroundings.
The hotel building was originally built in the late 1800s as the city's first electric power station, lighting the path for Glasgow's industrial development from 1893. The hotel's General Manager, Duncan Johnston, stopped to explain that the dining room we were sitting in once housed the generator that powered 20th-century Glasgow.
It is so typical of Victorian architecture that even the generation room was fitted with beautifully ornate cornices and high ceilings, making it the perfect dining setting today.
By the time my friend and I were well into our après-meal cheese and biscuit platter, Mylo had taken to the decks to liven the afternoon with a Scottish electronic mix. The Skye-born DJ, real name Myles MacInnes, played with enthusiasm, despite recovering from a cold – brought on, he said, by attempting to build his own sound-proof studio in the garden.
Edith, too, took the time to chat to us over cocktails (she preferred the Berry Smash so I ended up with her Glenfiddich Godfather too *hic*), and explained why she got involved.
"I like how each Hotel Indigo property is influenced by its local neighbourhood and the idea of celebrating the music from each neighbourhood felt like a wonderful opportunity to bring people together.
"Creating the playlists not only allowed me to enthuse about the bands and artists I already know about in each city, but also let me delve into the diverse range of sounds produced by the artists from a fresh perspective."
Edith wanted to make her playlist reflect her journey through music, rather than just a mash-up of iconic Scottish bands. We heard songs from different eras, ranging from 1980s Bearsden post-punk band Orange Juice to classics from Deacon Blue.
Mylo's playlist was just as dynamic, and enough to get us dancing (even after a full three-course meal) with songs from Franz Ferdinand and Primal Scream alongside John Paul Young and Craig Armstrong.
"As a country, we are very lucky to have such a rich tapestry of home-grown music available to us that is loved all over the world," Edith said. "Hotel Indigo aims to celebrate this through the Sounds of the Neighbourhood campaign so I'm delighted to be helping them."
Check back here for a video of the afternoon – coming soon!
---
Have a listen
To hear all of the Sounds of the Neighbourhood playlists for yourself, and find out more about them click here.