Spotlight: "Isle of Arran Gin" Cladach Beach House
---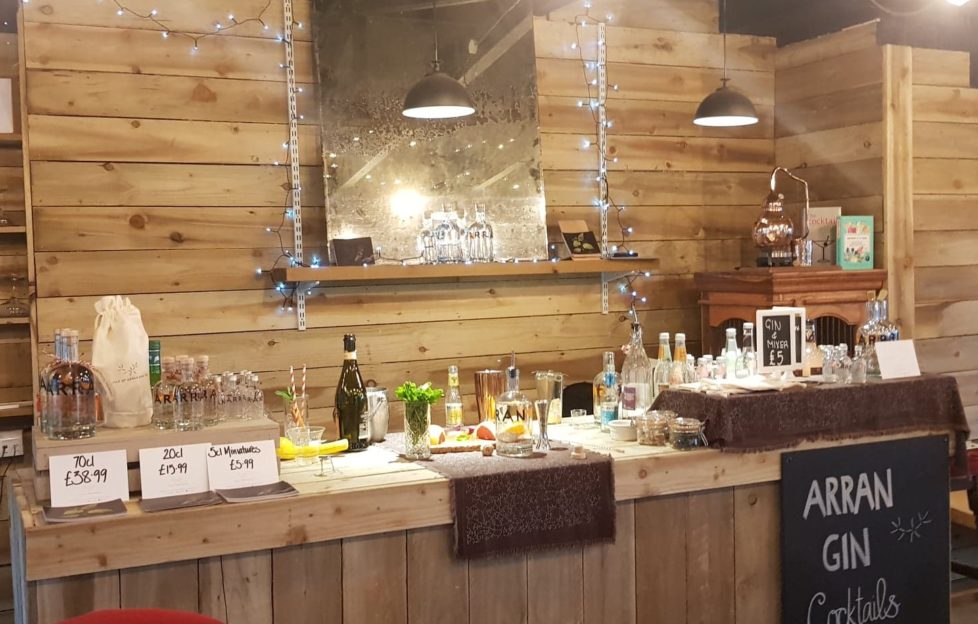 Isle of Arran Gin's new micro-distillery boasts a bar, botanicals and beach views
Cooried away on the breezy east coast of the Isle of Arran, a new micro distillery is bubbling away. Cladach Beach House – in a past life, the Arran Nature Centre – is now home to the Isle of Arran Gin company.
This charming bar, shop and small-scale distillery sits opposite the Wine Port and right next to the Mountain Rescue Centre in Brodick.
Stuart Fraser and his business partner George are the visionaries behind this small island's big idea. Stuart says, "The gin was a coming together of a local shop and bakehouse on the island. Our existing businesses look and feel different to the rest of Arran, and we wanted to create a different gin within a very crowded craft gin market in Scotland.
"As passionate 'makers', we were keen to focus on the taste and ingredients and not just the marketing.
"Arran has its own micro-climate, and the botanicals we work with just seem more emphatic and full-on than equivalent mainland plants. Of course, we're biased, but we genuinely feel that everything starts with the recipe, and ours is the right blend from the best habitats on a genuinely unique island."
The first batch of Arran Gin was released for sale back in 2018. Now, they're busy selling their second product, with the recent release of Arran Cassis. While Isle of Arran Gin remains the flagship product, this deliciously sweet blackcurrant elixir aims to make the leap from just gin and take a deep dive into a whole new range of botanical drinks. The Beach House lab is currently undergoing some interesting experiments, and more seasonal offerings are to be expected as we move into spring and summer.
When looking for a new home for the distillery, Cladach Beach House seemed like an obvious choice. Stuart says the Beach House has a special place in their hearts as they used to visit it as children, while it was still the Arran Nature Centre, to learn about the local island flora and fauna, natural history and various species.
"There's something special about maintaining that link to our past," he says. "And as foragers, we are very much rooted in the local, natural environment. Therefore, it's perfect that the surrounding garden offers us space for outdoor seating as well as the opportunity to plant botanicals.
"It's a stunning place to work, and big enough to cope with our production needs."
The Beach House building itself is rustic, quirky, and has an interesting past. Its location, virtually at the foot of Brodick Castle and a short walk from the ferry, offers foot traffic and at the same time a sense of quiet remoteness. This site also plays host to a dramatic beach view of mainland Scotland and the Ayrshire coastline.
After running a series of successful pop-ups under 'Occasional License' last year, The Beach House is set to have a permanent license in time for an official opening in March. Offering an intimate events space, expect to see a wide range of activity throughout the seasons. Our main activity of course, is making drinks and running tours and tastings, but the events will offer something different to locals and visitors alike in 2020.
Keep an eye out for the mid-Feb kick-off as they do Valentine's night with a twist. The Cladach location is the very definition of intimate and romantic, and will be hosting a candle-lit gin-tasting experience by the fireplace, for couples looking for something fun and different this year.
Stuart says, "We will be grabbing every opportunity throughout the calendar year to promote events with quirk or a different take, whether that's Valentine's, Easter, Halloween or Christmas. "
And follow on Instagram @isleofarrangin