Stirling's Spooks & Spectres
---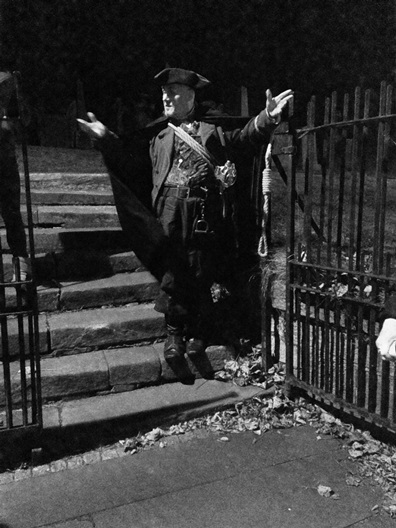 Jock Rankin welcomes us to Stirling's ancient graveyard.
Stirling has never struck me as being a particularly scary place but, after an hour or so wandering around creepy vennels, eerie closes and a very spooky graveyard, I was certainly looking at the town in a new light.
Our guide the evening was Jock Rankin, who describes himself as 'The Happy Hangman', although his official title is Burgh Executioner. Having returned from the grave for one night only – and for any other bookings he receives from www.stirlingghostwalk.com – Jock revealed that he came to an untimely but highly appropriate ending when he was choked to death by a chicken bone!
Our Ghost Walk began with the spine-chilling story of the tiny room at the top of Stirling Tollbooth – now a stationery cupboard but once the cell where the condemned spent their last days, weeks or, in the case of 86-year old wife beater and murderer Allan Mair, 18 months.
Next stop on our haunted trail, John Cowane's Hospital. Built thanks to the generosity of this building's namesake, John Cowane was a parliamentarian, merchant and all round good guy. However, with great relish, Jock revealed that all was not as it seemed with John Cowane, or Auld Staney Breeks as he's known. Cowane seduced serving girls and left them with child and without a shred of their reputation intact, his fortune was the spoils of piracy – and, as the clock strikes midnight on Hogmanay, his dastardly spirit dances through the streets of Stirling.
Jock Rankin ushered us through the ancient entrance to Stirling Graveyard with a chilling warning about the perils awaiting those who leave the pathway – not that anyone had any thoughts of making their own way to the other side!
With only the moon to light our way, and bats swooping, we tiptoed around the gravestones, with Jock stopping abruptly every now and then to share a tale of two of the graveyard's more restless inhabitants. We heard about The Pink Lady (either a noblewoman who died of a broken heart or a widow who was Stirling's only victim of bodysnatching), The Black Lady (a nun in search of her secret lover, a priest) and The Green Lady, the maidservant who sacrificed her life to save Mary Queen of Scots from a terrible fire in Stirling Castle.
As Jock Rankin pointed out, these ghostly ladies might strike terror into the heart of all who see them but at least they're colourful!
A clear view of Stirling Castle provided our guide with another rich seam of ghost stories, including a Blue Lady, a monk who though he could fly and the grisly tale of the murder of the Earl of Douglas by none other than King James II.
As we returned towards the bright lights of Stirling's town centre, Jock shared a few more tales from the darker side of Stirling – some made us laugh, some made us gasp and a few made us highly unlikely to return to a graveyard at night with the protection of our own Happy Hangman!
For information on events and places to visit in Scotland, go to www.visitscotland.com.