Take A Tour of Scotland…
---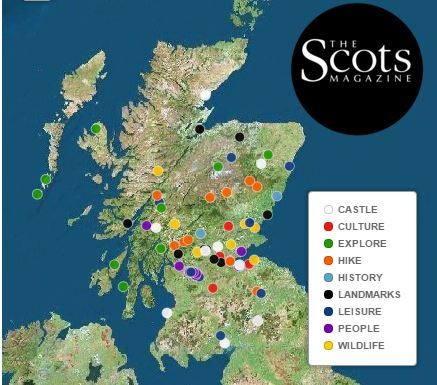 Planning a trip around Scotland, but not sure where to start?
Check out the interactive map below of some of the must-visit places we've covered on our website.
From snippets on national landmarks to tall tales from Tom Weir, the best places to see wildlife or even wee insights into local history – there's bound to be something that takes your fancy…
Click the maps points for an image – and make sure to click the link in the pop-up box for a full description, or feature on the subject.
---
More!
Don't see what you're looking for? Don't fret – we'll be adding to it as we go. It looks like we've been neglecting the NW Highlands recently, so we'll get that fixed for starters!
And don't forget – each month our magazine has a Focus section, with 7 pages dedicated to the best attractions in a single area. Our March issue featured the Borders,
our April issue (out on Thursday, March 17) focuses on Aberdeen and May will focus on Skye. Where do ye think we should feature next?
---
Travel ideas
For more travel ideas,
visit Scotlanders' Corner
– the home of Scotland's
first collaboration of talented travel writers.