Ten Things To Do This Week 13/10/14 – 19/10/14
---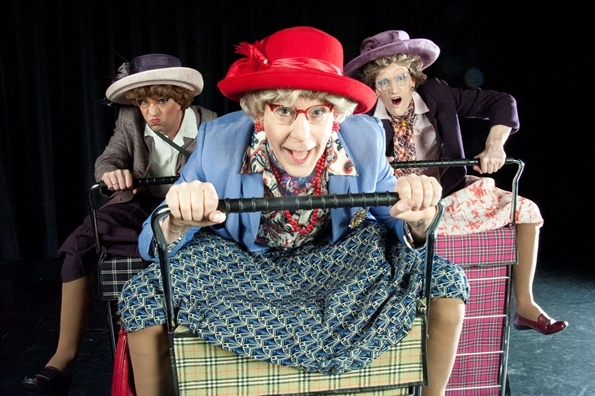 1. Surf!
Gasp at the wave riding antics of top surfing dudes at the Tiree Wave Classic (October 12-17), the most prestigious windsurfing event on the British calendar. Britain's best surfers will be competing at the event, which is set against the breathaking backdrop of Tiree. Spectators free.
2. Use Your Imagination
The Imaginarium Festival at the Eastgate Theatre in Peebles is providin half–term holiday fun from October 13-18, with dance, storytelling, theatre and comedy. Various prices.
3. Go Down To The Woods
On October 16, Woodland Arts in Dunnotar Woods is a chance to get creative in the forest. Let your imagination run wild and create works of art out of things you find in the woods – with help from the rangers. £3 per person, booking essential. Call 01466 794161 or email moray&aberdeenshire@forestry.gsi.gov.uk.
4. Laugh!
Fascinating Aida are at The Music Hall in Aberdeen on October 16 and, having laughed until I cried when I saw them at The Edinburgh Fringe this summer, are highly recommended – but prepare to be shocked!
5. Be Size-est!
For ten days from October 16, Biggar is the place to be for the Biggar Little Festival. Music, drama, dance, visual arts and literature, with a smattering of comedy, food and crafts, and a fireworks finale! Prices vary.
6. Enjoy Shopping & Shows
From October 16-18, Inverness Street Theatre Festival will be staged in the city centre, with national and international street artists performing outside shops, shopping malls, pubs and restaurants. Free!
7. Sip & Sing!
Kingussie Beer & Folk, October 17-19 is a celebration of the unique and award-winning ales produced in the Highlands, with live music at various venues throughout the weekend. Prices vary.
8. Taste!
BBC Good Food Show is at the SECC in Glasgow from October 17-19 and features a mouthwatering serving of celebrity chefs, cookery demonstrations, culinary attractions and, of course, chances to try delicious treats.
9. Experience The Great War
At Edinburgh Castle, from 12-4pm on October 18/19, visitors can learn what life was like for a Scottish soldier during the First World War, hear how they coped in the trenches and discover how the wounded were cared for – and try on a soldier's kit and take part in an army training session. Event included in normal admission price.
10. Belly Dance
Marvel at some of the UK's best belly dancers or learn this ancient skill at The Festival of Arabic Dance in Glasgow. Prices vary.