Ten Things To Do This Week 3/11/14-9/11/14
---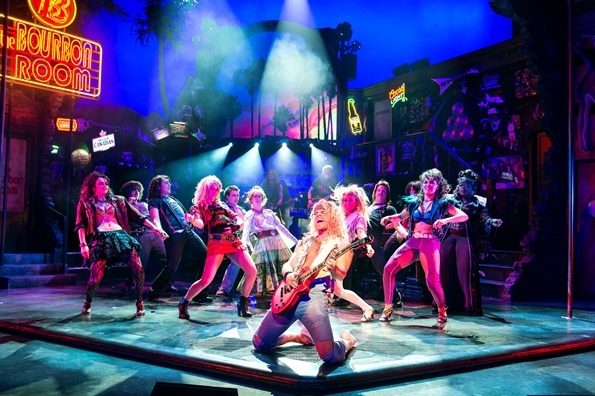 Rock of Ages rocks Aberdeen. Credit Manuel Harlan
1. Rock On!
The fabulously over-the-top Rock of Ages will be shaking the foundations of His Majesty's in Aberdeen this week (November 3-8). The smash hit Broadway musical features over 25 classic rock anthems – and lots of leather, big hair and guitars!
2. Go Digital
Scotland's only digital arts festival, NEoN (North East of North) takes place throughout Dundee until November 8. The programme includes exhibitions, workshops, performances and screenings, bringing together local, national and international artists.
3. Enjoy Free Films!
From 4-21 November, young people aged 5-19 can go along to free screenings of movies at The Into Film Festival, the world's biggest youth film festival. The Festival is taking place across the UK and as well as special screenings of films such as Frozen, 12 Years A Slave and The Box Trolls, other events include screening of Sixteen plus Q&A with writer and director Rob Brown in Edinburgh, a screening of God Help the Girl followed by a Q&A with director Stuart Murdoch in Glasgow and a two day film-making workshop.
4. Get Cosy!
The City of Inverness Fireworks Display at Bught Park in Inverness on November 5 is one of the many firework displays taking place across Scotland on Bonfire Night. Inverness's fireworks are set to be spectacular and the display will feature one of the largest bonfires constructed anywhere in the UK.
5. Remember, Remember…
Glasgow Green will light up on the night of November 5 with the annual Glasgow Green Fireworks Display. Free event!
6. Visit America During the Great Depression
For one night only (November 5), Company Chordelia, in association with Scottish Opera, recreate the dance marathons of 1930's America with Dance Derby at the Old Fruitmarket in Glasgow. Ten dancers, two actors and a six-piece jazz ensemble star in this moving drama of music and dance.
7. Strum Those Stings!
The Shetland International Guitar Festival (November 6-9) is held in honour of one of Shetland's greatest musicians, Peerie Willie Johnson, and includes workshops, concerts and performances by guitar heroes such as Martin Taylor and Tommy Emmanuel.
8. Get Folky
Denholm Folk Festival is described as 'a wee folk festival for a wee village'- but it's got big plans! Held in the Borders village from November 7-9, the weekend includes concerts, workshops and an open-state competition.
9. Discover The Music Of The Isles
Music plays a big part in this week's list of events! From November 7-9, the Islay Sessions are held in various venues across the island, embracing both Islay's music and its famous whisky!
10. Laugh!
On November 7, Dundee Rep will be transformed into a comedy club when the world-famous Jongleurs comes to the city. Sit back and let three comedians from the best of the British stand-up circuit tickle your funny bone!