Ten Things To Do This Week 6/10/14 – 12/10/14
---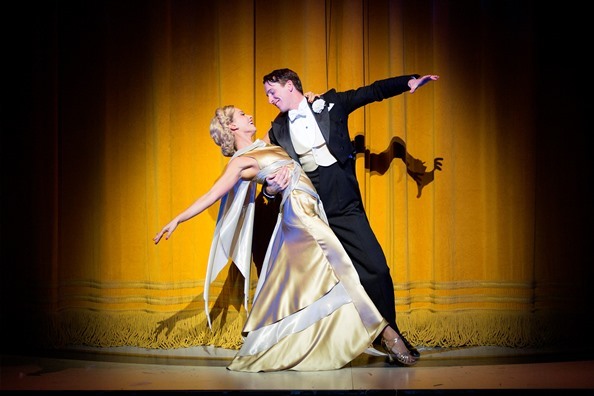 Top Hat comes to Edinburgh's Festival Theatre
1. Experiment!
From October 6 – October 19, Midlothian Science Festival showcases the science and technology of Midlothian. Events are held throughout Midlothian and most events are free or very reasonably priced. The packed programme includes events for all ages, covering scientific subjects as diverse as fluoro-science, fossils and forensic experiments.
2. Enjoy the Golden Age of Hollywood
Pull on your top hat, tie up your white tie and brush off your tails – Irving Berlin's utterly fabulous Top Hat is at the Festival Theatre, Edinburgh from October 7-18. Acknowledged as one of the greatest dance musicals of all time, Top Hat is packed full of classic numbers, including Cheek to Cheek, Top Hat, White Tie & Tails, Puttin' on the Ritz and Let's Face the Music & Dance. Tickets, £14-£45.
3. Look Out Those Old Golf Clubs!
The World Hickory Open's at the historic Angus golf course at Panmure on October 7/8 – and it's followed by a two-day Ryder Cup-style tournament at Monifieth Links, where teams from the USA and The Rest of the World will battle it out in the inaugural Grand Hickory Match. Spectators free.
4. Listen
A talk between actor and film director Peter Capaldi and artist and playwright John Byrne at National Galleries Scotland on October 8 should provide a scintillating evening.
5. Discover Something New
The Pleasance Sessions are held in the famous fringe venue from October 9 – 18 and feature music, comedy and prose. Acts include The Twilight Sad, comedian Paul Foot and Edinburgh favourites Neu! Reekie! Ticket prices vary.
6. Celebrate Gaelic Culture
The Royal National Mod, which is celebrating its 122nd anniversary, is being held in Inverness this year. From October 10-17, there will be Highland Dancing, Gaelic music, song, sport, literature and drama competitions, as well as concerts, books and a very busy fringe programme. Ticket prices vary, some events free.
7. Cheer!
Tunnock's Mull Rally is a thrilling race across the island's single track road on October 10-12. And the rally begins with a race of a very different kind in Tobermory on October 9 – The Tunnock's Tea Cake eating contest!
8. Fall For Autumn
The Wild Autumn Festival takes place across Dumfries & Galloway from October 11 – November 2. As well as welcoming back thousands of migratory geese to the Solway, the festival provides opportunities to get close to a number of iconic species, including red deer, red squirrels and, red kites, Prices vary, many events under £5.
9. Walk!
Creiff & Strathearn Drover's Tryst (October 11-18) celebrates the people who made Crieff the cattle-droving crossroads of Scotland in the 1700s. The modern day tryst features a week-long programme of guided walks, and a mountain bike event, within the stunning scenery and autumn colours of Strathearn. Prices vary.
10. Run!
Edinburgh's Big Fun Run is a 5k run through Holyrood Park on October 12. It's open to all ages (even babies in prams are welcome!) and, as the run's untimed, it's all about having fun (and, although it's not compulsory, fundraising)!