Ten Things To Do This Week
---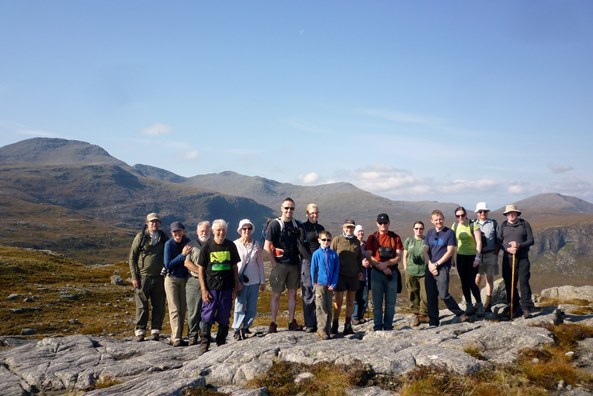 The first guided walk of Harris Mountain Festival - a hike to the top of Cleit Ard
1. Hit The Heights at the Isle of Harris Mountain Festival! From now until 20th September, a week-long celebration of the mountains of Harris is taking place on this remote and beautiful Hebridean island. The programme includes a range of guided walks, from stunning ridges to glorious coastlines, talks and presentations by guest speakers, outdoor sports sessions, boat trips, film nights and a ceilidh. "We've got fantastic weather here on Harris just now," said Matt Watts of Harris Mountain Festival, "and it looks like it's set to stay for the whole week ahead!" Prices vary. www.harrismountainfestival.com
2. Vote Have your say in Scotland's future by voting in the Independence Referendum on Thursday, September 18.
3. Laugh! We've been waiting a long time but this week sees the return of one of Scotland's best-loved, and funniest comedies – Still Game! Jack, Victor, Winston, Boaby The Barman, Navid, Isa and Tam are appearing live at the SSE Hydro in Glasgow from September 19 until October 10. Tickets (various prices) available from www.thehydro.com / www.ticketmaster.co.uk
4. Sing Along! Enjoy traditional Scottish songs and tunes at the Tarbert Music Festival, from September 19-21, when the village's pubs, hotels and even the fish quay will be filled with the sound of music! Prices vary. www.tarbertfestivals.co.uk
5. Solve a Crime or Two From 19-21 September, Bloody Scotland in Stirling attracts many of the biggest names in international crime writing. Authors appearing at this year's festival include Denise Mina, Christopher Brookmyre, William McIllvaney and Ian Rankin – if you love to find out who dunnit (and why!), this is for you! Ticket costs vary. www.bloodyscotland.com
6. Watch Kirkcaldy Film Festival (19-21 September) celebrates the best of contemporary cinema with screenings, talks and workshops. Tickets £5.
7. Join The Horsey Set The Wee Burgie horse trials are taking place on the outskirts of Forres on September 20 and are one of the most northerly – and picturesque – fixtures in the British eventing calendar. As well as arena horse trials, there will be food and craft stalls, a trade village and side shows. www.burgie.org
8. Help Beat Cancer Every year, communities across the UK raise millions of pounds to help Cancer Research UK's vital work towards beating cancer by participating in their local Relay For Life. On September 20/21, teams from Arbroath and the surrounding area will spend 24 hours on the track at Arbroath Cricket Club – go along and cheer them on! Free entry. www.relay.cancerresearchuk.org
9. Get Hot! Scone Palace gets spicy this weekend when the Chilli Festival 2014 celebrates our favourite fiery pepper in all its forms on September 20/21. Adult, £6.30, child £4.40, £20 family ticket. www.scone-palace.co.uk
10. Go Back In Time The Battle of Prestonpans 1745 will be re-enacted this weekend (September 20/21) at the site of the momentous clash between Jacobites and Redcoats. Don't miss the chance to visit both armies' encampments, meet the commanders, and witness the Highlanders head into battle behind their leader, the dashing Young Pretender. £2 donation. www.prestonpansreenactment.org