Ten Things You Cannae Miss… January 8-14
---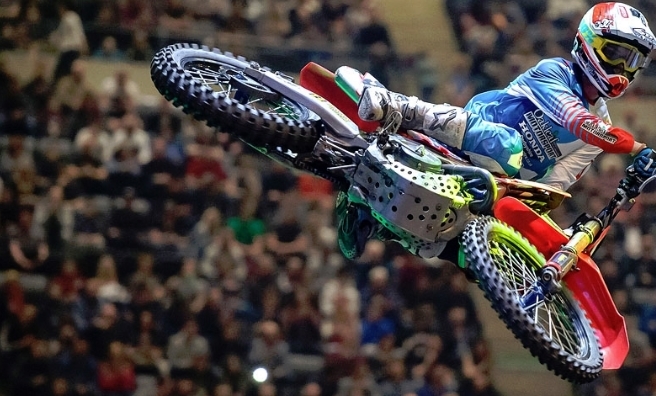 The Monster Energy Arena Cross Tour roars into Glasgow this weekend.
Our What's On guide to the most vibrant, most unusual and most unmissable events on offer this weekend and in the coming week. . .

Keep On Running
The Pure Gym Winter Run & Cross Country 5K challenge, which takes place at Holyrood Park on January 9, has attracted 2500 runners, including some of the world's top athletes – go along and cheer them on as they battle the Scottish terrain and weather!

Those Magnificent Men and Their Flying Machines
The Monster Energy Arena Cross Tour roars into Glasgow's SECC on January 9/10. Two rounds of the highly competitive two-wheeled contest will be held over the weekend, with world class indoor racing, awesome Freestyle Motocross antics and a whole heap of lights, lasers and pyro all mixed in to a pumping sound-track!

Catch It While You Can!
It's only on until January 17 so act now if you've been meaning to go along to Snow White And The Seven Dwarfs at Edinburgh's King's Theatre. Starring panto favourites Allan Stewart, Andy Gray and Grant Stott, this is panto at it's best. Oh yes it is!


Oh, Vienna…
The Royal Scottish National Orchestra is currently touring Scotland with a fabulous Viennese Gala evening of elegant waltzes, playful polkas, and good old-fashioned operetta romance, thanks to the music of Johann Strauss and a few of his equally musical friends. The RSNO is at Forfar's Reid hall on January 10 – click here for more details and other tour dates.

Horsing Around
The New Year Meeting at Kelso Races is on January 11 so get along if you fancy a flutter! Gates open at 10.40 and races taking place between 12.40 and 3.40pm, with free car parking and a full range of refreshments available.

Wee Ones Only!
Teeny Tiny Toddler Fest takes place at the Camera Obscura in Edinburgh from January 11-17. For one week, the Camera Obscura will be the place to be for toddlers (and their grown-ups), with six floors of interactive exhibits, play-stations and hands-on fun.

The Burning Of The Clavie
One of the ancient traditions of Scotland's north east corner is rekindled on January 11 at Burghead's unique winter fire festival, where a large barrel is set alight and carried round the town, culminating with a climb up Doorie Hill, where the flames gradually die down and the smouldering embers are collected for good luck.

Fairytale Magic
From January 12 until January 16, Scottish Ballet will be bringing the magical story of Cinderella to life at The Theatre Royal in Glasgow. This is the European Premiere of Christopher Hampson's highly acclaimed Cinderella, which was originally created for the Royal New Zealand Ballet, and is a wonderful recreation of this beloved fairytale.

Love Story
The Royal Conservetoire of Scotland's students are performing Shakespeare's Romeo and Juliet at the RCS in Glasgow from January 12-16 – a chance to see one of the world's most powerful love stories re-enacted by the stars of tomorrow.

The Hills Are Alive…
With The Sound of Music! At least, they are in Aberdeen this week! The hit musical (which makes me cry every time!) returns to the stage in a magnificent new production at His Majesty's Theatre in Aberdeen from January 12 – 16.