The First Castle Hunt Of 2018!
---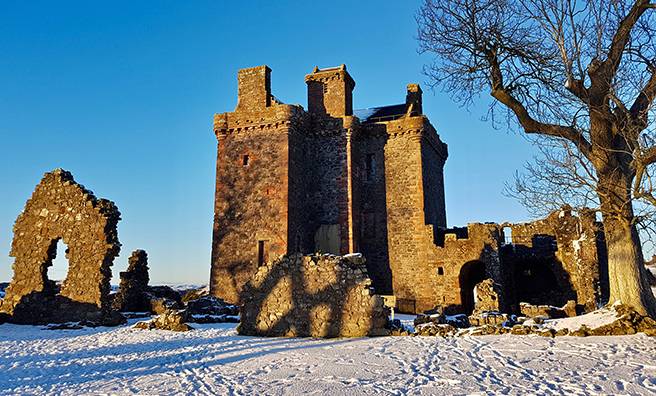 An ambitious route takes David around the Lomond Hills in search of towers in the snow
With the temperatures staying frightfully frigid and the high winds never seeming to relent, the first month of 2018 was not a friendly one for bicycle-bound history lovers.
But when the castle itch starts up, it must be scratched! So, aiming to find a balance between accessibility and scenery, I crossed the Forth from Edinburgh and set out to see the castles and towers nestled around the Lomond Hills while the snow was still fresh.
The goal was to ride in a big circle around the Regional Park, stopping off at places like Falkland and Burleigh at the edge of Loch Leven.
"…a monument several hundred years
older than the Great Pyramid of Giza."
Whenever I go on a castle hunt I refer to several websites and OS maps to determine a 'catchment area' and try my best to get to every castle, ruin and historic site within it. With around 35 snowy miles ahead of me I set out from Markinch, making my first stop at Balbirnie Stone Circle which dates back to 2,800 BCE.
Standing just off the A92, I wonder how many people drive by without realising that they're passing a monument several hundred years older than the Great Pyramid of Giza.
A forest path proceeded to Kirkforthar House, the shell of a 17th-century fortified house belonging to the Lindsay family. While it's not the kind of place that is likely to draw crowds I found it incredibly peaceful. I revelled in the crunching sound of snow underfoot, which, as a Canadian used to several feet of the stuff every winter, was a welcome and nostalgic melody.
Still within three miles' radius of where I started was stop number three, Bandon Tower. If you've ever taken the A92 north from Glenrothes you may have spotted this gaunt ruin looming in the hills to the west just outside town. It vexed me while en route to Falkland with the Scotlanders blogging group this past summer, because we didn't have time to stop at it, and once I spot a castle I'll see it in my sleep until I get to it. That's normal, right?
From Bandon it was on to Falkland, mostly for coffee and to thaw my toes but also to admire the Palace and charm of the historic former royal burgh. The usual Outlander fans were taking their pictures next to the Bruce Fountain from which Jamie gazed up at Claire in the series premier.
Noticing the sun getting lower, however, I skipped on partaking myself and began the trek along National Cycle Route 1 towards the northern tip of the Lomond Hills. On the way I popped over to Corston Tower in a field just outside Strathmiglo, which was something of a doppelganger of Bandon Tower.
There my plans hit a snag. It was three o'clock and the sun would only be up for another hour, and I had nearly 20 miles to go following my original circular route back to Markinch train station. Not a chance.
A Race Against Time
Balvaird Castle, the real apple of my eye that day, was tantalisingly close but too far to get to and complete the circuit before dark. I wavered at the side of a tiny rural road, with several cars passing and probably wondering what on earth I was doing staring off in the distance in the middle of nowhere.
Should I forego Balvaird and have it vex me like Bandon did, or press on and endure the unpleasantness of cycling in the dark?
A quick check of my map presented a third option – Perth train station was only 10 miles away, and all downhill at that. Sorted!
Arriving at Balvaird Castle, any thoughts that I had erred in my planning dissipated like the fading light. It was stunning, with the orange glow of the setting sun casting spotlights on the masonry and the snowy hills unfolding and glistening in all directions.
Dating to the 1500s, Balvaird is unstaffed and little-known, giving it a solitude that is immensely satisfying to history hunters used to dodging the crowds.
Too good to keep to myself, I filmed a live broadcast at the castle which was watched by some 30,000 people. Imagine all those tracks in the snow!
You can enjoy the castle while staying warm and dry by watching the video tour here.
Along with a trip to the Lochwinnoch area in Ayrshire a few days ago that makes nine new castles in January, bringing me up to nearly 320.
There's a long way to go to reach my goal of 400 Scottish castles by the end of the year, but with the days growing longer there are plenty of two-wheeled adventures ahead.
I hope you come along for the ride!
---
More Castle Hunts!
You can find more of David Weinczok's castle hunts on his blog  at 

castlehunter.sco

t and on our website every fortnight.