Toasting The Three Chimneys Marmalade Bible
---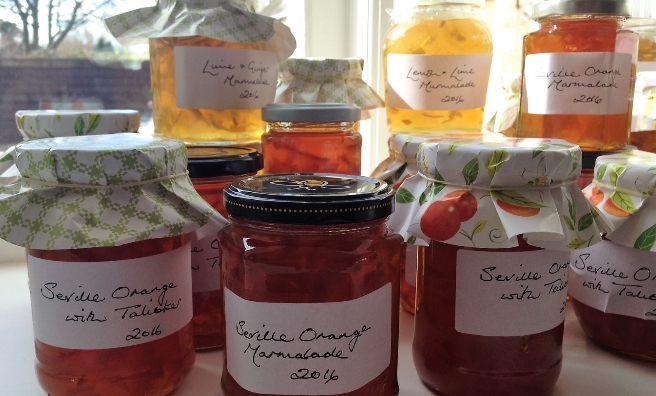 Three Chimneys wonderful homemade marmalade
Shirley Spear of the acclaimed Three Chimneys on the Isle of Skye, has just launched her latest book, The Three Chimneys Marmalade Bible.
The Three Chimneys Marmalade Bible is dedicated to marmalade and its culinary clout, as an ingredient embedded in Scotland's national food heritage and traditional way of life.
"I adore marmalade," Shirley revealed at the launch, which was held in Contini Cannonball on Edinburgh's Royal Mile.
"Orangey, citrusy, sharp and bittersweet all melt into one delicious mouthful."
To prove this, guests at the launch of the Three Chimneys Marmalade Bible (including this very lucky member of The Scots Mag team) were treated to a mouthwatering feast of marmalade-based canapes and cocktails.
My pick of the night – kipper marmalade pate with oatcakes and a Glengoyne whisky cocktail with marmalade. Closely followed by the haggis dipped in marmalade chutney and the raspberry gin and marmalade cocktail. And as for the marmalade version of cranachan – wow!
In fact, there was nothing I didn't love, including the jar of Shirley's own homemade marmalade which she presented me with at the end of the night (#BestJobInTheWorld!).
A pocket-sized guide to making a first-class marmalade – and 25 recipes
The Three Chimneys Marmalade Bible delves into the rich history of this much-loved preserve and offers a pocket-sized guide to making a first-class marmalade.
There are also 25 recipes, both sweet and savoury, ranging from Roast Duck with Port and Marmalade Sauce to Fish Kebabs with Marmalade Marinade. And not forgetting the star player: The Three Chimneys signature Hot Marmalade Pudding.
"Bitter Seville oranges from Spain have become an intrinsic part of Scotland's culinary calendar," continued Shirley, as she demonstrated how to make The Three Chimneys Hot Marmalade Pudding. "They lend themselves to all sorts of dishes, sweet and savoury."
Marmalade is made in January or February
Traditionally, marmalade is made in January or February, when Seville oranges are available. Scott Davies, head chef of The Three Chimneys told me that his team spent weeks preparing and cooking one ton of the restaurant's acclaimed marmalade last winter.
"It was an excellent team building exercise," Scott laughed. "We had so many oranges stored in the room above the kitchen, I half-expected the ceiling to collapse!"
The Three Chimneys Marmalade Bible was produced by Edinburgh-based publishers Birlinn Ltd and is available to purchase for £4.99 from all good bookshops.
---
The Three Chimneys
Shirley Spear and her husband Eddie bought The Three Chimneys restaurant in 1984 with no previous professional experience,.
Although no longer cooking professionally, Shirley continues to play a leading role in running The Three Chimneys, working alongside Head Chef Scott Davies.
As a result of Shirley's passion for the Scottish food and drink industry, in February 2015, she was invited to Chair the new Scottish Food Commission on behalf of the Scottish Government, tasked with building Scotland into a Good Food Nation.
In 2016, Shirley was presented with the award for Lifetime Achievement at the Scottish Rural Awards.