Tom Weir | Countrywide (I)
---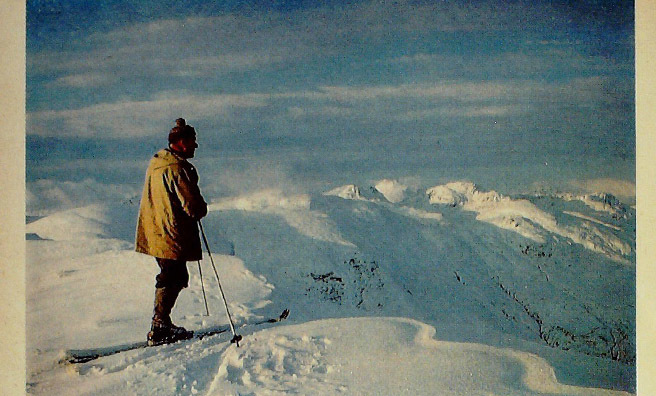 Two worlds. The long: peninsula of Kintyre with its dairy cattle and sheep on the headlands above the sea, was green and springlike, while the Arran hills were Alpine white across the Kilbrannan Sound.
I was enjoying the contrast, for just a fortnight before I had been on Rannoch Moor on one of the most glittering winter days I have ever seen.
Friends had phoned me to say that the ski conditions were marvellous otherwise I would have missed that very special day of perfection which turned out to have a sting in its tail.
After an early start I was well up Loch Lomondside before the peaks flushed with the deep rosy glow of a glorious sunrise. At Tarbet I was watching out for a glimpse of the snow-covered Cobbler above the narrows, its rearing jagged outline a challenge to any mountaineer
On my other side was Ben Lomond, from this aspect an elegant point above the rich russet Craigroyston shore.
Comfortably warm at the wheel, I was enjoying myself, though watchful of danger on the bends. I knew there was ice about by the sprays of icicles hanging like chandeliers from the cliff overhangs above the road.
Sunlight had now flooded from the mountain tops to the lochside bringing brilliant colours to silver birch barks and shining on hazel, oak and autumn-brown beech hedges still holding on to last year's leaves.
In Search of Snow
My friends were waiting for me at Tyndrum and we wasted no time. I parked my car at the hotel, transferred skis and gear into theirs and away we went for Ben Cruachan and a ski ascent.
On the way they were telling me of what I had missed the previous day on Meall a' Bhuiridh on perfect powder. What stood out in their minds was the descent at sunset over the summit, the peaks incredible in alpenglow while an enormous moon rose over Rannoch Moor.
Their spirits sank a bit however when we came in sight of Cruachan to see a fizzling out of the lower snow-cover. We decided to swing north into icy Glen Orchy for the assured snow-cover of Rannoch.
It was on Blackmount summit that I realised I had forgotten to shift my ski boots from my car into theirs. What a blow, and what inefficiency from an old-timer!
I would just have to climb on foot with the boots I had, and use a couple of ski-sticks for help in what was going to be a deep-sinking trudge.
My two friends, both called Ian, wasted no time, poling off and showing me the superiority of the magic slippers as they headed to a hill called Meall Mor overlooking frozen Lochan na h-Achlaise east of Coire Ba.
Downcast feelings quickly evaporated as I forgot myself in an immensity of white fluff where you couldn't see even a road let alone any sign of life except the tracks of mountain hare.
As it turned out I wasn't so far behind the skiers, having made up time as the slope steepened and uphill ski-ing became more difficult. On top at 1600 ft. they had given up the idea of adventuring farther west because of the depth of the snow.
So I didn't miss so much after all as even the downhill run was spoiled by the skis sinking too far down in the snow instead of running on the surface.
It meant we had time to drive down to Forest Lodge, Loch Tulla, and enjoy the pink-barked Caledonian pines as Stob Ghabhar, Stob Coir'an Albannaich and Ben Starav became gilded in the rich afternoon light while on the clear ice of the loch, feathers of frost had formed like Christmas tree stars.
"That the car might break down didn't occur to me…"
Back in Tyndrum, as darkness fell, I decided I'd set off for home instead of waiting for dinner. That the car might break down didn't occur to me, but after three miles the engine quietly died and I used its last momentum to pull off the road.
"What now?" I was thinking, when a car pulled in behind me for no other reason than that the driver wanted to put on his safety belt. I explained my dilemma. The stranger had a look under the bonnet, drew a blank, and within moments was whisking me back along the road to rejoin my friends.
They were luxuriating in hot baths, but quickly donned their gear and drove to my car where they found they could do nothing except tow me back to the hotel with an old climbing rope. It was a tricky exercise, and it was great to get out of the icy cold into warmth and forget about the car in the conviviality of an evening with good friends.
Breakfast was at 8.15 a.m. and I never face a problem until alter it. I was to be lucky for who should walk into the dining-room but an A.A. man. He was off-duty but he kindly came along with me alter breakfast and examined the car.
It had him beat but he offered to take it back to my home on his transporter. I accepted gratefully and so I was back in my own house on Loch Lomondside before 11 a.m. after a delightful drive seated high in the cab.
I found my wife preparing to go out for a walk, so oil I went with her up Duncryne Hill to enjoy the beauty of another exceptional day.
It was lovely to see the courtship excitement of the water birds again: goldeneye duck and goosanders doing their neck-jerking acrobatics, teal and wigeon whistling merrily, skeins of grey geese passing over in wavering V-formations clamouring noisily.
Check back next week for Part 2 of Countrywide, where Tom Weir's village is invaded… by capercaillie.
---
More…
Read more from Tom!
We have an extensive archive of Tom Weir's great columns for The Scots Magazine, and we're slowly but surely getting them published digitally for new generations to enjoy.
To see the columns we have online so far, click here.