Tom Weir | Loch Lomond Glories
---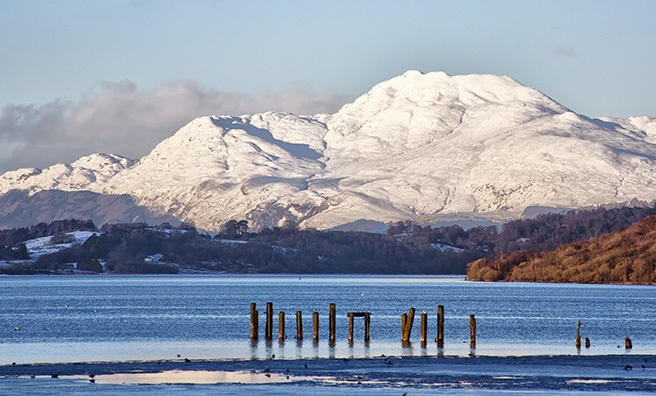 The changing seasons and colours around Loch Lomond still amazed Tom Weir, even after 20 years living on its shore
IF you were to ask me what has been my wisest move in an active life of travel and adventure in many countries I can tell you. It was buying a wee house below a wee hill over-looking the southern shore of Loch Lomond.
That was 20 years ago, when I got married, and abandoned a base in Glasgow for one on the fringe of some of the most varied countryside in Britain.
Since that decision I have had less and less inclination to travel abroad. I recognised early that this piece of country is far too big for any man to know intimately in one lifetime.
Readers and television viewers will know that I still travel extensively in Scotland, but in winter I love to be at home to enjoy what the weather is doing right here where the Lowlands give way spectacularly to the Highlands.
Above The Clouds
The cranreuch resulting from the overnight drop in temperature and the thick mist excited me more than any other conditions as I set off from the house for my morning walk across the burn to Duncryne Hill, a mere 463 feet, but sometimes high enough to be poking above the creeping cloud-blanket which has slowed traffic to an icy crawl since daybreak.
Every blade of grass, branch and telegraph pole has an icing sugar coating as I climb through the shrouded trees, stopping to enjoy frost pearls on neatly strung spiders' webs and rimev Balaclava helmets crowning the red rose-hips.
I know I am in luck as I come out of the highest trees and get an impression of a big electric lamp trying to pierce the mist.
A step or two upwards and I have blue sky above me and the green bulge of the top of the hill.
Revelation as I come over the crest!
Northward stretches a level cloud carpet, unbroken except by Ben Lomond thrusting through, its snowy pyramid softly gleaming as far removed from the smothered earth as a Himalayan peak.
As I look I see my own shadow standing out on the mist, ringed in rainbow colour — a "glory" caused by mist particles acting as prisms for the sunlight.
In contrast to the sharp cold below it is warm up here in the windless air and every colour is heightened — yellow glasses, red bracken below my feet.
A Hidden World
I wait expectantly for the shimmering cloud sea to break — obliterate Ben Lomond but reveal the hidden world below and it begins to happen as holes start appearing. The silhouette of a farm takes shape, skeletal trees poke blackly through the mist.
It is a magic hour watching the world take shape and flood with rich colour. By 11.30 the excitement is over.
After a morning like that, it was raining by late afternoon and the air became mild, as happened a few days earlier when I was all set to go skiing on the snow-plastered Luss Hills.
Overnight the temperature shot up and torrential rain stripped the white blanket. The River Endrick burst over the fields, and floods made driving on the Loch Lomond road very difficult.
It was in mild conditions like this that I introduced wild-life enthusiast David Hutton of Callander to the wetlands of the Endrick, which he described as a "revelation".
Laden with camera gear he hardly knew where to point his lens as we overlooked from the cover of trees a noisy concourse of feeding waterfowl, rafts of mallard and shoveller with teal everywhere among the reeds, and on the bank two barnacle geese among the greylags cropping the grass with the wigeon.
However the chorus of yelps, whistles, harsh quarks and honks was nothing to the next place we went, a barley field grey with geese taking off and settling again with a clamour of voice like a cup-tie football crowd.
Wherever you looked there were wild geese in the air, greylags, pinkfeet and whitefronts, but I would hesitate to say how many. Perhaps 3,000 greylags and a few dozen of the other species would not be so far away.
By the time we came back at dusk after a grand tour of flood-waters, soggy marshes, reedbeds, loch-shore and woods, David was enthusing that he had never seen so much in any one single place in his life.
He was lucky. Very hard weather sealing the pools and freezing the river changed the scene a few days later when most of the birds made an exodus to the warmer temperatures of the Clyde.
Read Part 2 next Friday!
---
More…
Read more from Tom!
We have an extensive archive of Tom Weir's great columns for The Scots Magazine, and we're slowly but surely getting them published digitally for new generations to enjoy.
To see the columns we have online so far, click here.