Top Chefs Head To St Andrews Farmers Market
---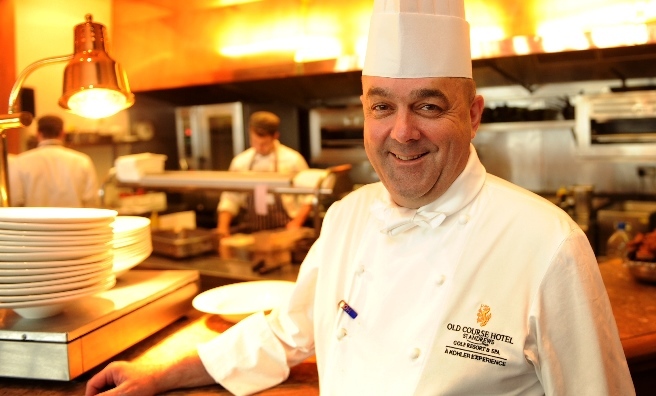 Martin Hollis, chef at the Old Course Hotel, who will be at the St Andrews farmers market
Two of Scotland's top chefs kicked off a series of seasonal feasts at St Andrews farmers market on 2 May 2015.
Martin Hollis, Executive Chef at The Old Course Hotel, and Scott Davies, Head Chef at The Adamson were be at May's farmers market in St Andrews, where they cooked dishes featuring the seasonal flavours of gooseberry, asparagus and crab.
"I love visiting the farmers market and these cookery demonstrations provide a great opportunity to celebrate the very best of local Fife produce," said Martin Hollis. "I'm a big fan of produce from the farmers market and, alongside Scott Davies, look forward to cooking up some truly delicious dishes."
Up to 30 stalls sell a variety of local produce
St Andrews Farmers Market takes place in Argyle Street (North) car park on the first Saturday of every month between 9am and 1pm, when up to 30 stalls sell a variety of local produce from fruit, vegetables, cheese and chocolate to venison, beef, buffalo, pork and freshly smoked Arbroath Smokies.
"I'm delighted to welcome two of Scotland's best chefs to the farmers market," said Tom Mitchell, Chairman of Fife Farmers Market, who added that other chefs are scheduled to appear at markets over the summer months, including Geoffrey Smeddle of the Michelin-starred Peat Inn, Ian MacDonald of The St Andrews Links, Alan Matthew of The Fairmont and Jamie Scott of Rocca.
"Getting such chefs involved is not only a great opportunity for the public to meet them face-to-face but also shows the strong links our producers have with local restaurants. It's a great way of demonstrating the strength of the local food chain and how easy it is to eat the best local and seasonal produce at home or when you're eating out."
To find out more about Fife Farmers Markets, click here.
The latest issue of The Scots Magazine is packed full of foodie features. Pick up a copy in the shops or order online here.