Val McDermid | Twin Muses
---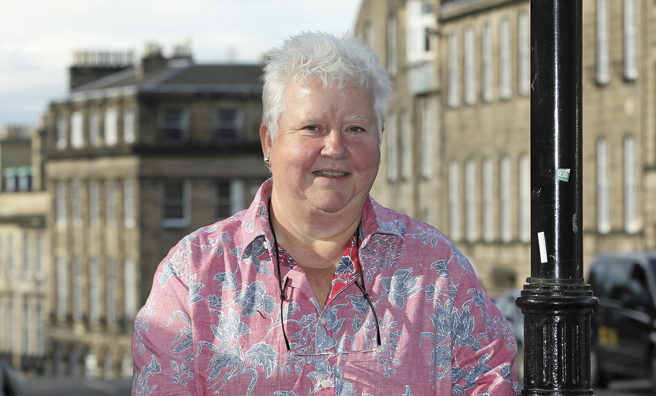 Just don't invite Val to an autopsy…
She's one of the UK's leading crime writers, and murder mysteries are her speciality – yet she has an unexpected confession to make…
"I'm quite squeamish," says Val, the woman who has an uncanny ability to describe grisly deaths and the chilling forensic examinations that inevitably follow. "If I was at an autopsy, I'd probably pass out!" 
Val's latest book, The Skeleton Road, is set in Scotland and Croatia and revolves around the discovery of a skeleton in the turret of a dilapidated mansion with a bullet through its skull. To solve the mystery, Val drafts in DC Karen Pirie, the Kirkcaldy detective who had a bit part in The Distant Echo, followed by a bigger role in A Darker Domain. 
"Karen Pirie just kept coming back into my head, shouting, in her very Fife way," laughs Val, who was born and brought up in Kirkcaldy and now lives in a flat in Edinburgh's New Town.
Val reveals that she was inspired to write this chilling story of war crimes, revenge and love by two extraordinary women. 
"When I was an undergraduate at St Hilda's in Oxford, the junior philosophy don, Kathy Wilkes, was only in her early twenties and, when I became college president, she became my friend.
"Junior philosophy don Kathy Wilkes taught me how to think – and drink"
"Kathy was a woman of great generosity and sheer brilliance. In my final year at Oxford, I spent a lot of time with her, talking about philosophy long into the night. Kathy taught me how to think and she also taught me how to drink! 
"In the 1980s, life was very difficult for anyone behind the Iron Curtain with a thirst for knowledge so when Kathy was invited to Prague by dissident academics to conduct secret philosophy seminars, she accepted – and kept going back. She pretended to be on holiday, carrying philosophy texts disguised as airport novels. When she was caught, Kathy was banned from Czechoslovakia so she started holding seminars in Dubrovnik, where she was when war broke out in the Balkans in 1991."
The Siege of Dubrovnik plays a major part in The Skeleton Road's plot. "Kathy refused to leave Dubrovnik," continues Val. "She considered it her duty to help and support the people of the city and to inform the world what was happening there. 
"Kathy died a few years ago but many of the things she wrote about and talked to me about appear in The Skeleton Road. Kathy was honoured by the city of Dubrovnik, she was an honorary general in the Croatian Army and there's even a square in Dubrovnik named after her."
Forensic anthropologist Sue Black inspired Val's new work
The second woman who inspired Val's new work was Professor Sue Black – one of the UK's leading forensic anthropologists, director of Dundee University's world-leading Centre for Anatomy and Identification and a woman Val is very proud to call a good friend. 
"Sue's incredible. She led the British Forensic team when they excavated mass graves in Kosova so the perpetrators could be charged with war crimes. She did similar work in Iraq and she recently authenticated 50,000 photographs of torture that came out of Syria. Her strength, her passion and her integrity are hugely impressive and, having picked Sue's brains a lot over the years, it was good to be able to write about her work in a way that pays her the respect that's due."
Sue and Val have been friends for over 20 years. "We were on the same radio show but Sue was in a studio in Aberdeen, I was in a studio in Manchester and the show was coming from Glasgow. We started chatting and Sue made the foolish offer that if ever I needed any forensic information, to give her a call. I've been calling ever since! 
"I once asked Sue what a body would look like after being in a peat bog for 200 years and she said, 'Like a leather bag with a face'. That was such a vivid image, I didn't have to do any work. We have these two-hour phone conversations where I ask her what I need to know for my latest book and then we chat about our lives."
The friendship between Val and Sue led to an unusual fundraising drive when Sue asked Val to help raise £1 million for a world-class morgue to be built at Dundee University. "Crime writers are always asking forensic experts for information so I reckoned this was our chance to give something back!" 
Val persuaded nine other best-selling crime writers to take part in a contest where members of the public could vote for their favourite crime writer and, in the process, donate to the Million For A Morgue Appeal. The morgue was to be named after the winning crime writer and, £1 million later, The Val McDermid Mortuary is a reality. 
"I was delighted to win," Val says. "However, all 10 writers competed in a spirit of friendly engagement."
"Crime writers are the party animals of the literary world"
In fact, it appears that crime writers are a very sociable bunch. "We're the party animals of the literary world. At any given book festival, we'll be the ones closing the bar!
"Traditionally, the literary world looked down on crime writers and we almost felt we were stuck outside the building, standing in the rain, faces pressed against the windows! That's shifted a lot in recent years, but we still stick together like a wee gang."
Having finished The Skeleton Road and a non-fiction work – Forensics: An Anatomy of Crime – Val is already planning her next book. "When I'm writing the last third of a book and at the stage where I hate it, thinking about the next book gets me to the end. The book I've yet to start writing is always so much more interesting and exciting than the one I'm working on."
Val's current book-in-planning features two of her best-known characters – clinical psychologist Dr Tony Hill and Carol Jordan from her Wire In The Blood series. 
"The Pirate Granny will be returning, too," reveals Val, whose children's picture book, My Granny Is A Pirate, brought the best-selling author to the attention of a whole new audience. "I originally told the story to my son, Cameron, when he was little. It started off as a story we made up in the car and at bedtime. I've since paid Cameron £5 as his share of the royalties!"
Cameron is 13 years old and the reason Val splits her time between Edinburgh and Manchester, where he goes to school and spends part of his time with his other parent, Val's former partner. "Cameron's a very sensible boy, which sounds like a terrible condemnation, but so far, there are no signs of a ranting teenager!"
The other significant person in Val's life is Jo, the woman she fondly describes as her 'bidie-in'. "We met over a year ago when she came to one of my lectures in Oxford," says Val. "We're very happy – even though she lives in Glasgow, where it rains far too often for my liking!"
Oxford, which also features in The Skeleton Road, is the place Val credits for changing her world. "I had my sights set on Oxford from an early age. I loved The Chalet School books and when the Chalet School girls left school, they went to one of three places: Oxford, the Sorbonne or the Kensington School of Needlework. My French wasn't good enough for the Sorbonne and having peered through the windows of the Wemyss School of Needlework I knew that wasn't for me. So Oxford it was!"
With the support of her English teacher, Val won a place at Oxford
Aged 17, Val won a place at St Hilda's College, Oxford, assisted by Mr Allsop, Kirkcaldy High's Head of English. 
"Wilf Allsop was a great teacher," says Val. "We kept in touch throughout the years and when he died recently, I delivered the eulogy at his funeral."
Val visits her hometown regularly, usually when Raith Rovers are playing. "My dad was a scout for The Rovers. He discovered Jim Baxter and signed a player who scored the winning goal for Sunderland in the 1973 English FA Cup Final. I can always get a free drink in Sunderland," laughs Val, who is a director on the Raith Rovers board. 
Val also has a burgeoning television career – though she admits she prefers radio. "You don't have to dress up for radio. I have, on occasion, spoken to the nation from my bed with no clothes on – John Humphreys didn't know that when he interviewed me at 7am!"
For more information about Val McDermid's books, head to her website at www.valmcdermid.com